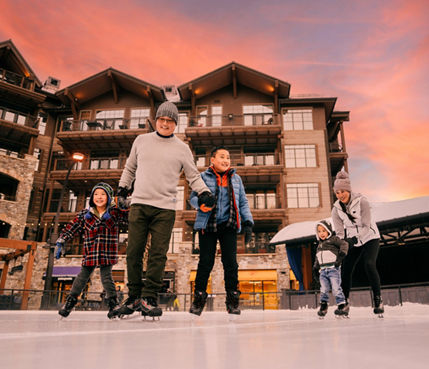 Taking the whole family on an unforgettable skiing trip is an excellent way to make the most of the winter months while hitting the outdoors.

Northstar ski resort goes above and beyond to cater to guests of all ages, ensuring that both parents and children fully enjoy their experience in this winter wonderland. Recognized as the premier family-friendly ski resort in the area, Northstar is a top choice for a North Tahoe ski vacation.

These family friendly amenities at Northstar make your trip to Tahoe even more enjoyable and are just a few of the reasons its a great choice for family trips.

1. The Resort Offers Transportation Services

If you're flying into Tahoe, you won't have your own car, and renting a car when you plan to spend most of your time on the mountain is unnecessary.

That is why Northstar provides guests with complimentary dial-and-ride services in the local area, making it one of the best Lake Tahoe ski resort for families.

2. The Resort Is Pet-friendly If You Are Bringing a Furry Family Member

A family ski trip to Lake Tahoe would be incomplete if you had to leave any pets behind at home. Bringing them along also provides entertainment and distraction for kids who love being with their animals.

Just know that only some Tahoe ski resorts accommodate pets. Northstar is proud to be dog-friendly, so be sure to book a pet-friendly room if this applies to you.

3. Ski and Snowboarding Lessons for Everyone

Even if everyone in your family is an avid snow shredder, a lesson can be a great way to improve technique, performance, and results on the mountain. Additionally, if there're family members with little to no experience on the snow, then they'll need a gentle beginner's course to get started.

Northstar offers a full range of exceptional lessons for children and adults at every experience level and including the Northstar Green Run Guarantee. With the Green Run Guarantee, beginners will learn to ski or snowboard a green run in just three lessons, and if not, then the fourth lesson is free!

4. Family Friendly Ski-In/Ski-Out Lodging

Ski-in/ski-out lodging means stepping out the front door hitting the powder! It's convenient, easy, and time-saving, and helps make your ski vacation more enjoyable for everyone.

Some great family lodging options at Northstar include:
The Constellation Residences at Northstar
The Constellation Residences at Northstar include access to heated pools and hot tubs, a fitness room and gym, a ski concierge, ski storage, and more in a quiet location.
One Village Place
One Village Place at Northstar gives guests a luxurious living experience right above the Big Springs Gondola, with immediate access to the mountain without waiting in line. Ski in and ski out from perfectly located mountain lodging that's within easy walking distance of the Northstar Village.
5. Kid Friendly Dining

Northstar Resort offers on-site cafes, restaurants, and more, so you don't need to go far to find everybody's favorite food, and the pedestrian village offers lots of options all within easy walking distance. In Northstar Village you'll find many kids friendly casual restaurants options including pizza, pasta, burgers, sandwiches, and salads.
There are also great dining options on the mountain itself. Below are the most popular on-mountain dining options for your mid-day break.
Here you'll find warm and fresh lodge food at a central location just above the Big Springs Gondola within the mid-mountain zone.
At an 8,000' altitude, the Zephyr lodge is a great place to stop near the summit before making the journey back down. Here you'll see fantastic views through the lodge's floor-to-ceiling windows while enjoying the lodge's best locally sourced, seasonal dishes.
6. Kid Friendly Activities other than Skiing

If someone in your family can't go skiing, or if bad weather arrives, there are plenty of other family-friendly activities to do in and around the resort without a lot of added travel.

Some of the best kid friendly activities for the entire family include:
7. Access to a Wide Range of Beginner Friendly Skiing

You wouldn't be going to a ski resort if skiing or snowboarding wasn't at the top of the to-do list. While each resort will have access to various slopes, finding one that provides both quality and variety is essential. Try to prioritize green and blue ski slopes, as these are the most child- and beginner-friendly.

At Northstar, you have access to over 90 different mountain trails for a full range of skill levels, from beginner to expert. You can also explore the Northstar trail map beforehand to get a good idea of what's available.

8. Convenient to Airports and By Car

Getting to the resort is convenient to manage and avoids extra travel stress. If you're flying in, the resort is close to Reno-Tahoe airport and convenient to nearby towns and cities if you plan on exploring the surrounding area.

Northstar Resort is conveniently located in the Lake Tahoe region, and accessible from various locations. Here are some key points regarding travel to the resort:

By Air: The closest major airport to Northstar is the Reno-Tahoe International Airport (RNO), which is approximately a 45-minute to 1-hour drive away. You can find flights from many major cities to Reno. From there, you can rent a car or use shuttle services to reach the resort.

By Car: Northstar is easily accessible by car from Northern California, especially if you're coming from the San Francisco Bay Area or Sacramento. It's about a 3.5 to 4-hour drive from San Francisco and a 2.5 to 3-hour drive from Sacramento, depending on road conditions.

Shuttle Services: Several shuttle services operate between the Reno-Tahoe International Airport and Northstar Resort. These services can be convenient for those who prefer not to drive.

For exploring the local area, the shore of Lake Tahoe and the waterfront towns are just a fifteen-minute drive to the Southeast from Northstar, and downtown Truckee is fifteen-minutes to the Northwest.


Plan a Snowy, Fun Filled Family Vacation to Tahoe This Winter
Get started with
planning your visit
to Tahoe's best family-friendly ski resort, for a wonderful experience the whole family will enjoy and remember for years to come.