Arrive by Car, shuttle or Air
GETTING HERE
Your ultimate guide to arriving at Northstar safely
Previous tab
Previous tab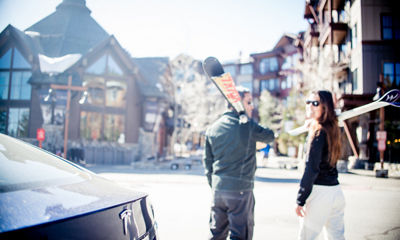 Truckee Tahoe & Reno-Tahoe International
Direct Flights
With the Truckee Airport just 4 miles from Northstar, traveling has never been easier. Jump on one of the regional private air services like Mountain Lion Aviation, Blackbird or SurfAir, all of which service the Bay Area, Southern California and beyond. The Reno/Tahoe International Airport is just a quick 40-minute-drive from Northstar, with direct flights to and from most major cities, including Canada and Mexico.
Scheduled service is offered from 3:30 a.m. until midnight, to and from Northstar and the Reno-Tahoe International Airport. Reservations are required
For schedules, route maps or more information, visit NorthLakeTahoeExpress.com or call 833.709.8080
Luggage and Ski Shipping Service:
Avoid the hassle of carrying and checking bags by sending your luggage and sports equipment ahead with Luggage Forward, the official luggage and sports equipment shipping service of Northstar. Arrange your shipping booking online.
Northstar Transportation
Northstar provides private shuttles for your group transportation needs in the Lake Tahoe and Reno area. We offer shuttle services for any group event including: weddings, corporate groups, golf outings, dinner parties and many other large events.
Please contact us at NSTransportation@vailresorts.com or call us at (530) 562-3555 to book your bus today!
Let us do the driving for you
While free on-site parking is available, spaces are limited. We encourage guests to ride share or shuttle when possible. There are many shuttle services that make it easy for you to sit back and relax.
Northstar Transportation App
Download the iOS or Android version to access Dial-A-Ride services locally.
Discover Lake Tahoe Tours: South Tahoe to Northstar every Tuesday
Local Transportation
There are many transportation services that allow you to sit back and relax on your way to and from the resort. We recommend the below third party companies:

Tahoe Ski Trips
https://www.tahoeskitrips.net/

Sports Basement
Phone: 1-800-866-6670

North American Charter(NAC SKI)
Price includes transportation, lift ticket and a light breakfast.
Phone: 925.230.2086

Tahoe Mountain Club
TMC offers a free shuttle service for members to and from Old Greenwood.
Phone: 530.550.9400

North Lake Tahoe Express
Year-round, scheduled service between Reno-Tahoe International Airport and the North Lake Tahoe-Truckee region, with local transit connections.
Phone: 833.709.8080

Truckee Area Regional Transit (TART)
TART regular runs to and from downtown Truckee and Kings Beach
Private Car Service
Truckee/Tahoe's only bio-diesel fleet provides private car or shuttle service regularly.
Please visit TahoeSierraTransportation.com, or call 530.582.5828 for more information.
Local North Lake Tahoe Taxis
Independent Taxi: 530.546.8687
North Tahoe Checker Taxi: 866.420.8294

Limousine Services
North Tahoe Limousine: 530.546.5888
Reno-Tahoe Limousine: 775.348.0868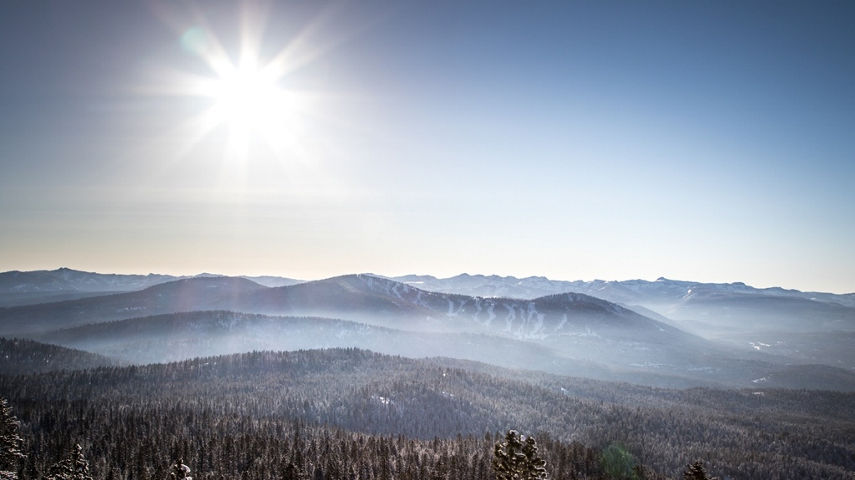 Winter 2022/2023
PARKING AT NORTHSTAR
Free Parking | Village View & Castle Peak:
Free parking will be available daily in the Village View and Castle Peak lots on a first-come, first-served basis. The Village View lots are located immediately adjacent to The Village at Northstar. Guests can walk to or take a quick shuttle ride to The Village. The Castle Peak lots are the first available parking option on Northstar Drive (located at the roundabout), and are used for overflow when Village View lots are full. Castle Peak is served by a continuous free shuttle bus service, which runs between the Castle Peak and The Village at Northstar.
Premium Paid Parking | Lower Village Lot:
The Lower Village Premium lot allows you to park just steps away from the gondola. Lower Village Premium Parking costs $20 per day Monday-Friday (non-peak) and $40 on weekends and holidays. Payment is cashless using one of three easy methods: self-serve kiosks in the parking lots, the Park Northstar App, or through the "tap and ski" QR code on lot signs. Premium parking is available on a first-come, first-served basis. Parking in Lower Village is complimentary after 2pm.
Helpful Parking Tips
Lower Village Lots (premium paid parking) are complimentary after 2pm each day. *Paid parking begins each day at 5:30am.
The gondola opens at 8 a.m. During holidays, weekends and big weather events, please plan to arrive as early as possible to ensure you have your preferred parking option.
Pay attention to weather and traffic updates when planning your trip, doing so will allow you to plan ahead and design your trip to meet your expectations.
If you are attending children's ski school, build time into your arrival for check-in and parking. There is a passenger drop-off area at The Village.
We have handicap and ADA accessible parking available at Northstar. These areas can be found at our Auto Drop Area, Transit Center/Loading Dock, and at Castle Peak parking lot.
Complimentary Dial-A-Ride services are available for guests staying at Northstar. Download the Dial-A-Ride app to request a ride. Available for iOS and Android.
There is no overnight parking available in the Northstar parking lots. Please call Public Safety (530)562-2259, should you need assistance with your vehicle.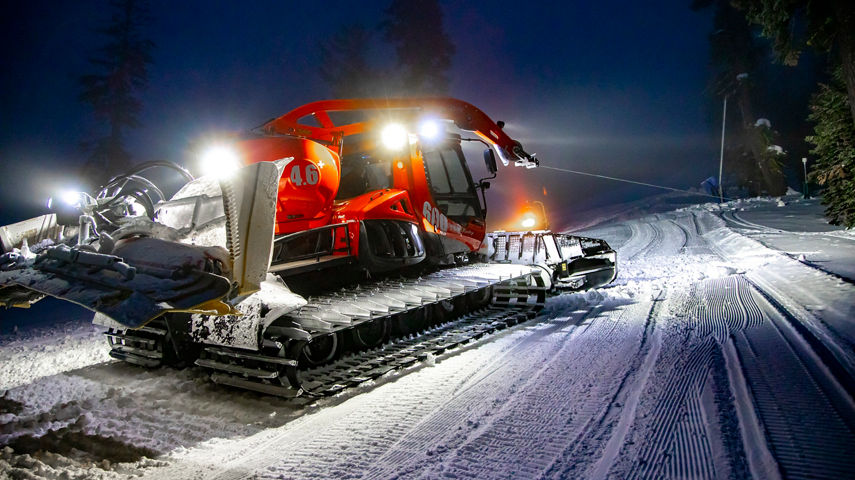 Know before you go
Current Road Conditions
Weather in the Sierra can change in an instant, transforming dry roads to a wet, slippery, and dangerous situation. Keep yourself and your family safe, by using the below resources to plan your travel route and timing.