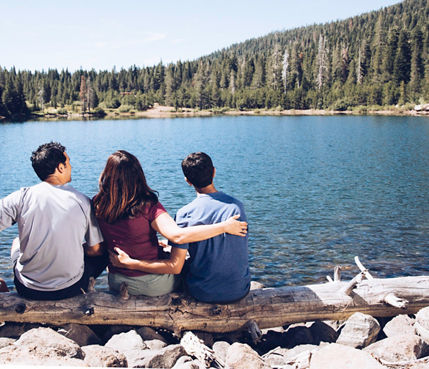 North Lake Tahoe has plenty to offer water lovers. With the stunning mountains and forests surrounding it, the lake is one of nature's gems, ready to be enjoyed by you and your family and friends. With this North Lake Tahoe boating guide, you'll have all the information you need to make your trip full of adventure. From sailing to jet skiing and everything in between, there are plenty of ways to enjoy your vacation at this beautiful lake.



North Lake Tahoe Water Activities
There's no shortage of ways to enjoy the water here. The lake is 22 miles long and 12 miles wide, giving visitors a whopping 72 miles of shoreline to enjoy. If you want to take full advantage of the water, there are options for all ages and interests.
Simply swimming in the lake is fun, but if you're looking for something a bit more exciting, you might try jet skis, waterskiing, wakeboarding, kayaking, and paddle boarding, as well as boating. It's a good idea to aim for at least a week so you can get in all the fun possible, after all, there's nothing more refreshing than spending time on and in the water during a hot summer.
North Lake Tahoe Boat Rentals
Waterskiing and wakeboarding require a boat and the best way to enjoy these activities is to rent a boat. Whether you want to take a little jaunt around the lake or get in some suntanning on the lake, renting a boat will give you complete freedom to spend the day as you please.
North Lake Tahoe Boat Rental
This five-star boat rental company offers a range of high-end boats that you can enjoy.
North Lake Tahoe Boat Rental
has boats that range from 6-12 passengers, as well as jet skis. Choose the option that works best for your group. Their claim to fame is that they offer only new boats. There are no ancient vessels here. They also offer dockhands who can help you learn the ropes and ensure your boat time is all fun and no frustration.
Tahoe Family Adventures
If speedboats aren't your thing, don't worry!
Tahoe Family Adventures
offers a whole new way to enjoy Lake Tahoe. This boat rental service provides small tritoons with waterslides as well as a floating water park, complete with a trampoline and waterslide. Just motor over to a secluded area and start playing. These are great options for the whole family. They do offer jet skis and wake surf boats, too, if you want more excitement.
Rent A Boat Lake Tahoe
If you've rented a house on the lake and want a boat for several days,
Rent A Boat Lake Tahoe
offers multi-day rentals. They also provide several sizes of power boats that work well with tubs, wakeboards, and waterskis. The company also rents the gear to have all the fun you could want while on the lake.
North Lake Tahoe Boat Tours
Not everyone wants to man their own boat. If you'd like something a bit more relaxed, with a knowledgeable captain, there are options for that, as well.
Tahoe Jacks

Interested in a tour that's a little different from all the others? At Tahoe Jack's, you can rent clear kayaks. Since Lake Tahoe's waters are super clear, this affords you the best look at the water and fish below you. It's one of their most popular tours, but they also offer paddleboard and regular kayaking tours, too. Even if you've never kayaked before, these tours will have you paddling away like an expert in no time.

Tahoe By Design

Looking for a luxury boat that can take you and your friends around the crystalline waters of Lake Tahoe? You'll find everything you want at Tahoe by Design. This company actually manages events and weddings, so they can easily handle your vacation group. Luxury charters are available with a few different boats, so check out the website before you go to make your selection. It's also important to book ahead since they fill their rental spaces rapidly.

The Tahoe Gal

To learn more about the history of Lake Tahoe as you cruise its pristine waters, Tahoe Gal is a great option. The paddle-wheeler is large enough to hold up to 120 passengers and provides multiple cruise options. You'll learn about the history of the lake and the area surrounding it. Cruise options range from a sunset dinner cruise to a brunch or happy hour trip. It's perfect if you want something a little different than the usual tours.

Boat Tahoe

For captained tours of the lake, Boat Tahoe is the perfect choice. You can take a boat for up to 10 people and travel around, check out the various sights on the lake, or do something more active. For wakeboarders and waterskiers, the captain can provide the perfect boat maneuvers. Their captains are all US Coast Guard licensed, so it's as safe as possible.

Tahoe Sailing Charters

While most North Tahoe Lake boat rentals are for speed boats, this tour is unique. You'll board a beautiful sailboat and use the natural power of the wind to sail across this incredible lake. Get the most out of nature by sailing. The company provides a competent crew and captain for each tour, including scenic cruises and breakfast sails.




North Lake Tahoe Jet Ski Rental
Want to get a little closer to the water? Jet skis are an excellent way to get out on the lake and enjoy yourself without the need for a bulky boat. Fortunately for you, there are plenty of North Lake Tahoe jet ski rental places available.
Full Throttle Tahoe
At
Full Throttle Tahoe
, you can rent a jet ski and take off on a personal adventure. Jump some waves, or just do a mini tour along the shoreline of Lake Tahoe. They also offer lessons in wakeboarding and provide boat, kayak, and paddleboard rentals.
Parasail Tahoe
Despite the name,
Parasail Tahoe
offers more than just parasailing (which is highly recommended). Here, you can rent a jet ski and take off with a friend to enjoy the water. The rental services don't stop there, though. Paddleboards, water sports equipment and even water bikes are all part of the offerings here.
Tahoe Aquatic Center
One of the best-known jet ski suppliers at Lake Tahoe is the
Tahoe Aquatic Center
. Here, you can select the jet ski that best suits your needs and take off on the lake. Even if you've never ridden a jet ski before, you'll be given careful instruction and shown how to use the jet ski safely before heading out with confidence.
Northstar Resort — the Perfect Base for Your Summer Adventures
Just a short distance from the lake, you'll find Northstar Resort. There are multiple options for lodging, including the
Constellation Residences
for a homey feel,
Timber Creek Lodge
, which is a gorgeous hotel set in nature, and
Ski Trails Condominiums
.
When you stay at the resort, you can also take a break from your water-based activities and hike the mountain and enjoy the spectacular views. There are plenty of hiking trails, mountain biking trails, and golf for those who need to take a break from the water.
With all the amenities and even more fun activities, what are you waiting for?
Book your summer getaway today
!