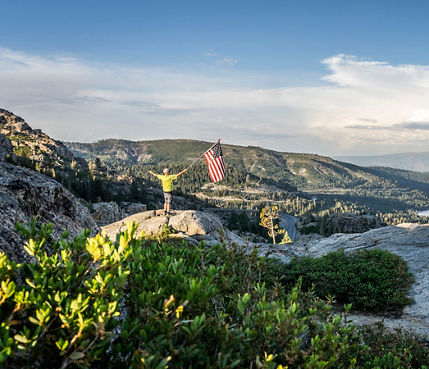 North Lake Tahoe is famous for its crystal-clear waters and laid-back California vibe. But there's only so much of this gorgeous lake that you can see from the shore. Kayaking North Lake Tahoe is the perfect way to get a close-up look at this unique lake. Whether you're in the mood to spot monster fish or want to take truly memorable selfies, you can do it from the seat of a kayak. Here's everything you need to know about heading out on a kayak adventure during your next Northstar visit.


Be Adventurous: Head Out on Your Own Kayak Rental
Experienced kayakers can get on the water right away thanks to a
wealth of paddle shops
that offer hourly, half-day, and full-day rentals in North Lake Tahoe. The most popular launch locations for kayaking along the North Lake Tahoe shoreline include:
Kings Beach: Head 10 minutes up CA-267 north to reach iconic Kings Beach. You'll find several kayak rental shops in town and at the Kings Beach State Recreation Area.
Tahoe Vista: Located just west of Kings Beach, Tahoe Vista is home to several popular kayak launch spots. Many of the rental shops that serve Kings Beach also rent kayaks in Tahoe Visit.
Tahoe City: This eponymously named city is about 30 minutes from Northstar along CA-267 north. Tahoe City Kayak offers rentals, lessons, and guided tours for those interested in starting their paddling journey at this popular destination.
Carnelian Bay: Located between Tahoe Vista and Tahoe City, Carnelian Bay is home to Tahoe Watermans Landing, where you can rent all the gear that you need to explore the North Lake Tahoe shoreline via kayak.
Homewood: Located on the West Shore of North Lake Tahoe, Homewood is a popular destination for boaters and kayaks. You'll find a full-service marina and kayak rentals nearby.
Crystal Bay: Located just over the border with Nevada about 20 minutes from Northstar, Crystal Bay sits on a scenic point with scattered granite boulders. The view of the bay from aboard a kayak is simply amazing. You can even head out for a big buffet lunch at one of the casinos in the area if you need to refuel!
Sand Harbor: Located 30 minutes from Northstar on the Nevada side of the lake, Sand Harbor is a popular destination for kayakers thanks to its natural beauty and proximity to both the North and South ends of the lake. However, access to Sand Harbor itself can be limited. If you'd like to see the area from your kayak, you're best served by renting a vessel in Tahoe City or Kings Beach and heading down.
To secure your kayak rental you'll usually need a driver's license or other government ID along with a credit card.
It's also important to follow California kayak laws while on the water too — remembering that all kayakers need to carry Coast Guard-approved life jackets on their vessel. Kayakers under 13 must wear their life jackets at all times. Your rental company will provide a lifejacket.


Navigating North Lake Tahoe Solo
Lake Tahoe is a massive body of water, and it's not advisable to circumnavigate the whole lake in one day. You'll have a much more enjoyable experience if you stick to paddling along the north shore and stopping to enjoy the sandy beaches on your way. There are myriad areas to land your kayak along the shoreline, especially when it isn't crowded with beachgoers.
The
Lake Tahoe Water Trail
is a 72-mile path that circumnavigates the shoreline of Tahoe. The Sierra Business Council promotes the trail and publishes maps of the route. You'll find signage along the way in the water to keep you on track. To get started, check out this easy
West Shore Day Trip
for a fun, 10.4-mile paddle along shore.
Tackling the Lake with Your Own Gear
If you're bringing your own kayaking gear to Lake Tahoe, it's important to perform a
vessel inspection
before entering the water. Aquatic plants and invasive wildlife like Zebra mussels can cause significant damage to Lake Tahoe's delicate ecosystem. Be sure to clean, drain, and dry your kayak before bringing it to the lake.
Take A Kayak Lesson in North Lake Tahoe
If you've never been out on a kayak before (or it's been a long time since you last paddled), consider asking about private lessons at one of the many rental shops in the area. You'll find regularly scheduled lessons at
You can take lessons individually or as a group. Pro lessons are a great choice for families who want to introduce their kids to watersports. When you take kayak lessons at North Lake Tahoe, you'll learn
Boating safety tips
Paddling techniques
How to maneuver a kayak
Basic navigation
What to do in an emergency
Go for a Professionally Guided Tour
It would take years to see everything North Lake Tahoe has to offer by kayak on your own. You can enjoy the best scenery and experience when you arrange a professionally guided tour of the lake. You'll paddle as a group with a guide, who will point out natural features and share facts about the lake that you won't hear anywhere else.
Most of the rental shops in the area offer guided tours or can recommend their favorites.
One of the most popular tour operators in North Lake Tahoe is
Clearly Tahoe
. This outfit runs tours on clear kayaks so that you can truly appreciate the beauty of the lake beneath you. Families with older kids will love the nighttime LED tour, where you get to head out on your clear kayaks guided by the serene glow of colorful lights all around you.
Add Another Local Lake to Your Tour
The North Lake Tahoe area is home to a number of lakes that are popular with water enthusiasts, including historic Donner Lake. You might remember the story of the ill-fated Donner Party, which was stuck on the summit near the lake for a long, brutal winter. Today, the shores of Donner Lake are a beautiful retreat from the hustle and bustle of Tahoe itself.
Donner Lake is located about 20 minutes from Northstar along I-80 East.
Donner Lake Watersports
offers kayak rentals by the hour, half-day, or full-day. Donner is much smaller than Lake Tahoe, so you can comfortably circumnavigate it by day and be back at Northstar in time for a
well-deserved dinner
.
Jump Start Your North Lake Tahoe Adventure
Are you ready to get away from it all and check out the cool, calm waters of North Lake Tahoe? Let
Northstar California
serve as your home base as you explore, play, and relax in this aquatic paradise.