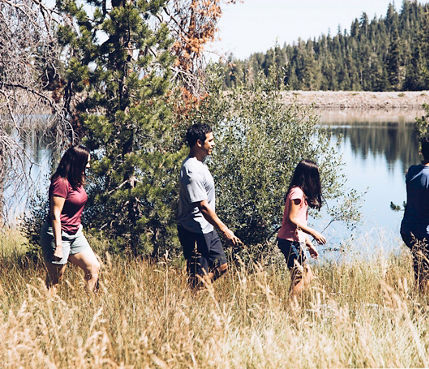 With its pristine waters, panoramic vistas, and hidden gems, paddleboarding North Lake Tahoe is an adventurer's paradise. The calm waters guarantee paddling enthusiasts, from newbies to seasoned pros, a riveting outdoor experience.

Luckily, you don't need to bring your own board when paddleboarding in North Lake Tahoe. You can easily rent one on the beach or from local rental services such as Tahoe City Kayak, Tahoe and Paddle & Oar, and Tahoe Adventure Company. If you're a newbie, these companies also offer paddling classes to ensure your adventure starts on a high note. Alternatively, you can sign up for a guided paddleboarding tour and perhaps enjoy a little healthy competition as you make new friends.


The Stunning Kings Beach

Kings Beach is a stunning paddleboarding spot on the northern shores of Lake Tahoe. It offers serene blue waters, striking mountain views, and a sandy beach that stretches along the shoreline.

The waters are calmest in the morning and early afternoon, making Kings Beach one of the best places to paddleboard in North Lake Tahoe. The sandy beach provides convenient access to the water so you can quickly launch your paddleboard and explore the pristine waters. You may encounter wildlife ranging from fish to birds or the occasional beaver or otter.

Kings Beach's convenient amenities include paid parking, restrooms, picnic spots, and restaurants. You can easily hire a board that suits your skill level from nearby rental services such as Tahoe Paddle & Oar. Paddleboard rental options include hourly, half-day, full-day, and multiple days.

You can enroll in beginner or advanced classes and polish your paddling skills. Alternatively, you can sign up for the Crystal Bay guided tour and glide between huge volcanic boulders around the Brockway Hot Springs.



The Picturesque Sand Harbor

Perched on the Northeastern shore of Lake Tahoe, Sand Harbor makes paddleboarding in North Lake Tahoe a picturesque experience. Sand Harbor is renowned for its crystal clear turquoise waters, pristine sandy beaches, and impressive rock formations.

Since the beach is relatively sheltered, the waters are usually calm, allowing for a peaceful paddleboarding experience. Early mornings or evenings offer the best experience since the winds are lighter. The clarity of the water adds to the allure as you can see the lake floor and the colorful underwater life. Paddleboarding along the rocky shoreline lets you discover secluded spots and hidden alcoves.

Available amenities, including free parking, restrooms, picnic areas, and food stands, make the beach ideal for a full-day paddleboard adventure. The Sand Harbor National Park, where the beach is located, opens at 7 a.m. and closes one hour after sunset. Local rental services such as Tahoe Adventure Company offer paddleboard rentals and guided tours, and classes. Most SUP tours are 2 to 4 hours long, while the lessons are about 2 hours.

Get here early because Sand Harbor State Park restricts access to prevent overcrowding. The park closes once the paid parking is full and doesn't open again until after 5 p.m. It's illegal to park on the highway and then walk to the park as it often leads to an increase in road accidents.



The Sheltered Commons Beach

Commons Beach, located in Tahoe City on the Northwest shore of Lake Tahoe, is a popular spot for outdoor enthusiasts. Shallow calm waters and spacious sandy beaches make this beach ideal for SUP in North Lake Tahoe. The designated areas for watercraft launches allow easy access to the water with your paddleboard.

Commons Beach remains relatively calm throughout the day, thanks to its relatively sheltered location. The tranquil environment is ideal for leisurely paddling or practicing SUP yoga.

Commons Beach offers various amenities, including restrooms, parking areas, playgrounds, and group barbeque areas to enhance your outdoor experience. The family-friendly beach is ideal when planning a paddleboarding trip with your kids. You can rent various types of paddleboards and sign up for lessons, guided tours, or SUP fitness classes from local rental services such as Tahoe City Kayak. The beach opens before sunrise and closes after sunset to help you maximize your time on the water.



The Idyllic Carnelian Beach

With its sandy shoreline, sheltered beaches, and tranquil waters, Carnelian Beach offers the best SUP on North Lake Tahoe. The charming bay boasts a quieter atmosphere than other popular spots on Lake Tahoe.

The small bay is relatively sheltered, offering an intimate and serene environment for the paddleboard enthusiast seeking solitude. Beginners can stick by the shoreline and polish their craft, while seasoned pros can explore the bay and its surroundings.

Available facilities on the short (500 feet) public beach include free parking, picnic tables, a lakefront promenade, benches, barbecues, and restrooms. Users of non-motorized watercraft — paddleboards, kayaks, and canoes — are advised to register for the Tahoe Keepers program.

The initiative is part of Lake Tahoe's initiatives to combat aquatic invasive species. The program teaches you to inspect and decontaminate your board before launching at Lake Tahoe.

Alternatively, you can rent a paddleboard and gear from a local paddle shop. Most services offer lessons and guided paddle tours customized to suit your needs.



The Elevated Donner Lake

Known for its peaceful atmosphere, natural beauty, and beautiful scenery, Donner Lake is a fabulous paddleboarding spot.

The towering peaks and lush forests surrounding the lake create an arresting backdrop as you glide across the sparkling waters. The crystal-clear waters reflect the beauty of its natural surroundings, creating a visually captivating experience.

Donner Lake's small size, calm waters, and navigability add to its unique appeal as a paddling destination. It's the perfect place to practice balance and polish paddleboarding techniques.

Donner Lake has two private and two public beaches. West End Beach is the biggest and is a popular paddleboarding location. Available amenities include a covered pavilion, fishing area, picnic areas, playgrounds, snack shacks, and restrooms. The day beach charges a daily access fee (you can opt for a season beach pass) and has Red Cross-certified lifeguards.

You can rent a paddleboard on the beach, but vendors require a credit card deposit on all rental equipment. West End Lake Beach is open five months a year, from May to September, from 8 a.m. to 8 p.m.




Stay Close to the Finest Paddleboarding Spots
Early mornings and evenings are the best times to glide on the waters around North Lake Tahoe. The winds are often mild, allowing you to enjoy an idyllic and rewarding paddleboard experience.
Staying at the
Northstar Resort
grants ready access to the top paddleboarding spots on North Lake Tahoe. The world-class amenities at the Resort will make your paddleboarding adventure rewarding and memorable.