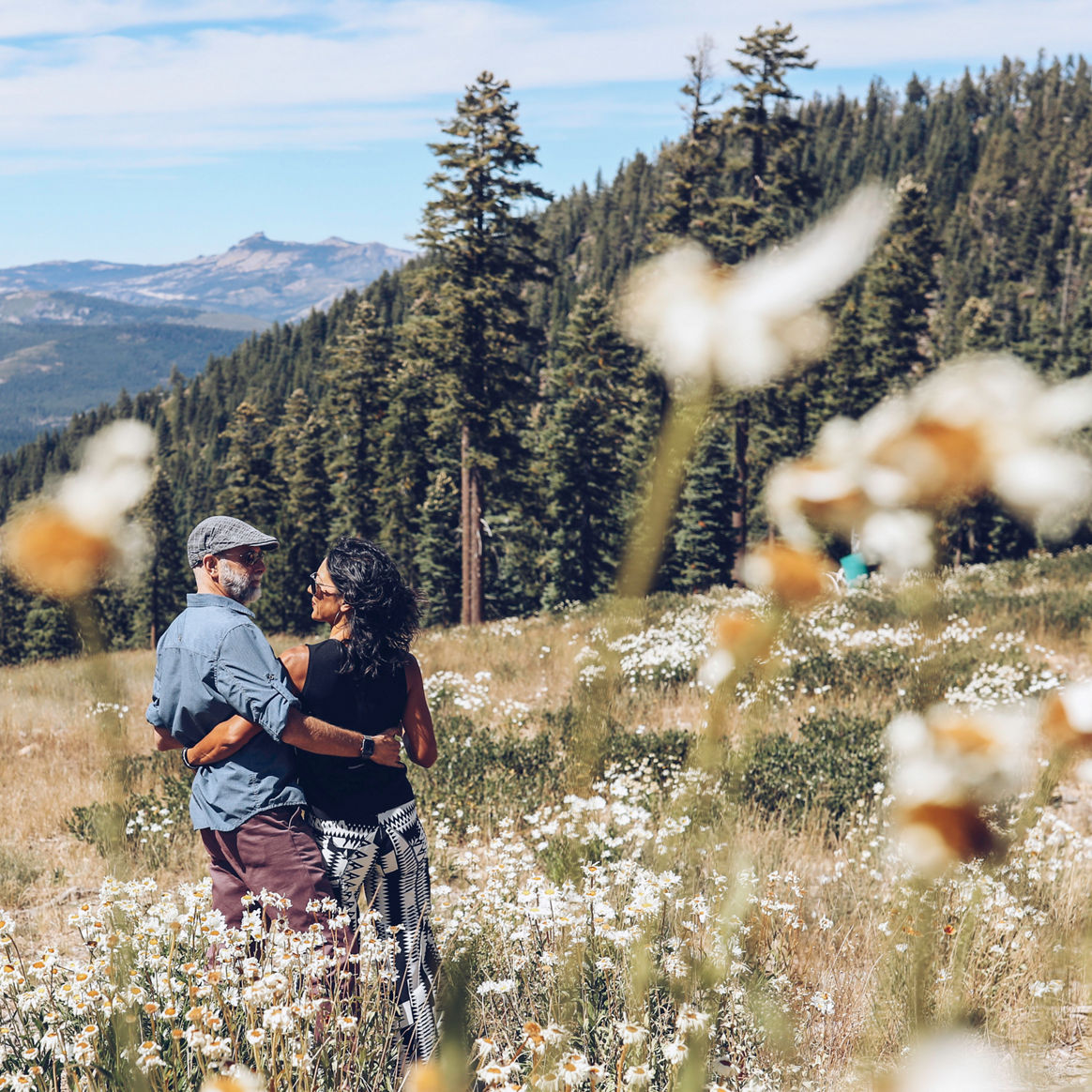 Nestled in the heart of the towering Sierra Nevada mountains, North Lake Tahoe embodies scenic, memorable wedding destinations. Lake Tahoe wedding locations are renowned for their breathtaking scenery, combining natural elements and beautiful landscapes to create magical wedding venues that deliver unforgettable experiences.
Whether planning a
winter wonderland wedding
, a cozy autumn gathering, a vibrant spring affair, or a sunbathed summer celebration, North Lake Tahoe wedding locations transcend all seasons. The changing landscapes provide a spectrum of colors and textures that add a layer of charm to your wedding photos while creating an immersive wedding experience.
The Breathtaking Peaks of Mount Pluto
Mt. Pluto
is an extraordinary wedding destination that combines picturesque landscapes and sweeping panoramic views to create a unique wedding experience. Sitting at 8,600 feet, the mountain peak lays the groundwork for a romantic and
memorable wedding celebration
.
Chairlifts and gondolas
treat your guests to thrilling scenic rides while allowing easy access to the wedding venue. Leashed pets are allowed on gondolas, so bring your furry friends to the wedding.
Like most wedding venues in North Lake Tahoe, Mt. Pluto readily accommodates your outdoor wedding vision. You're spoiled for choice, whether you prefer an intimate ceremony or a large gathering with family and friends.
Since Mt. Pluto is home to the Northstar California Resort, you can count on the resort's wedding planning experts to help you plan the perfect day. The dedicated coordinators will ensure everything is perfect, from picking the best wedding spot to deciding the seating arrangement, matching the décor to your wedding theme, and decorating the aisle.
The resort provides turnkey wedding solutions so you can focus on enjoying your big day. After exchanging your vows, you can hold your reception and afterparty onsite at the Zephyr Lodge. The lodge is a dedicated venue that caters to all your wedding reception needs, from linens to gourmet meals and everything in between.
The Charming and Rustic Zephyr Lodge
Huddled amidst the majestic peaks above Lake Tahoe,
Zephyr Lodge
is a fantastic wedding destination with unparalleled vistas and ambiance. The lodge, perched at 8,600 feet on a serene mountain range, embodies a harmonious blend between nature and elegance.
Despite the high elevation, the lodge is easy to access — 19 chairlifts and gondolas are onsite to ensure everyone comes to your big day.
Zephyr Lodge's rustic yet sophisticated architecture blends seamlessly with the spectacular surroundings to exude a rustic, refined charm. It combines the warmth of natural materials with modern comforts creating a welcoming and intimate atmosphere for your wedding festivities.
The lodge offers versatile indoor and outdoor spaces to facilitate your dream wedding. You can opt for a grand reception or a
small intimate ceremony
with your nearest and dearest.
Zephyr Lodge will complement your big day with sumptuous, chef-inspired offerings. Professional chefs will craft a custom menu using the finest locally sourced ingredients and whip a feast that will delight your guests and cater to your specific dietary needs and preferences.
The lodge is available from Mid-June to September and accommodates up to 300 guests. Holding your wedding at the Zephyr Lodge is subject to food and beverage minimums. The venue charge is also subject to minimums and covers everything from table linen to gondola transportation.
After a day of festivity, your guests can retire in thoughtfully appointed rooms at the Northstar for a peaceful night of relaxation. You can wake up to sweeping mountain views and world-class amenities to heighten the wedding experience.
Sparkling Shores of the Sand Harbor Beach
Nature's beauty meets lakeside elegance to create the perfect outdoor wedding destination at the
Sand Harbor State Park
. Nestled along the sparkling shores, Sand Harbor is one of the best wedding venues in North Lake Tahoe.
Booking this venue lets you exchange vows against a backdrop of crystal-clear turquoise waters, surrounded by dramatic rocky cliffs and towering pine trees. The soft, golden sands on the beach provide
a natural and romantic aisle
for your grand entrance.
Sand Harbor's expansive beach creates a versatile North Lake Tahoe beach wedding venue. You can envision a small intimate gathering of friends and family or a large decadent affair filled with joyous laughter and dancing.
Sand Harbor weddings are held at the
Ramada
, a group-use area next to the lake that can accommodate up to 200 guests. You'll need to reserve a spot early, as availability is first-come-first-served. Your officiants, photographers, and wedding planners must procure commercial permits from the park's office.
Amenities in the park include ample parking, restroom facilities, and dedicated picnic areas. Overnight events aren't allowed, but you can have your bridal team check in at the nearby Northstar Resort and end your big day on a high note.
The Beautiful and Historic Sugar Pine Point State Park
With its pristine natural beauty and historic charm,
Sugar Pine Point State Park
is a captivating North Lake Tahoe wedding destination. The park is nestled along the scenic shores and offers a captivating wedding venue with a truly romantic experience.
Lush meadows, towering pine trees, and the sparkling blue waters of Lake Tahoe welcome you as you head to the wedding site. These natural features create an idyllic backdrop for a beautiful wedding ceremony where every moment is infused with tranquility and grace.
There's a dedicated events space by the
iconic Hellman-Ehrman Mansion
, a stunning lakeside estate dating back to the early 20th century. Using the majestic mansion as a backdrop gives North Lake Tahoe weddings a fairytale vibe.
You'll need to reserve the wedding site, which can accommodate 150 guests. While the park offers ample parking, well-maintained restroom facilities, and picnic areas, it doesn't provide wedding planning services.
You'll need to bring your own vendors and have them attend a walkthrough to understand the
park's regulations
. Alcohol or overnight events are not permitted. Your wedding guests can book a stay and retire for the night at the readily accessible Northstar Resort.
Make Your Big Day Truly Memorable
North Lake Tahoe is the perfect choice if you wish to have a fairytale wedding customized to your needs. You can exchange vows at the grand Zephyr Lodge, the peak of Mt Pluto, or picturesque parks fronting Lake Tahoe.
After a night of celebrations, you and your guests can enjoy restful sleep at the nearby
Northstar Resort
. The luxurious amenities at the world-class lodge will heighten any wedding experience and let you create wonderful memories.
Learn more about
Northstar Weddings
.