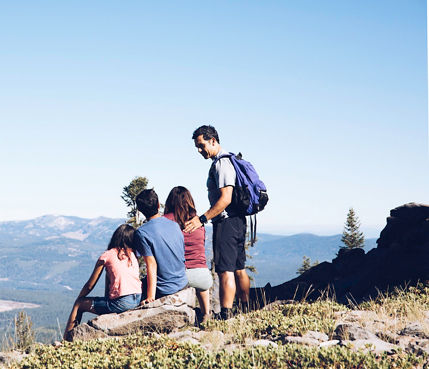 Northstar California Resort is a hive of activity all year round, not just in winter! In summer, there are plenty of exciting things to do in Lake Tahoe and the surrounding area, with outdoor activities, nature spotting, and music at the top of many visitors' to-do lists.

You can get your pulse racing with mountain biking or take a leisurely walk through the stunning landscape by picking one of the many hiking trails around the mountain or lake. The summer activities at Northstar are plentiful and are a great reason to visit outside the winter months.


Off-Road Excursions in the Bike Park
The Northstar Bike Park is one of the best bike destinations in North Tahoe and home to adrenaline-pumping trails, descents, and technical features, all designed to hone your skills and give you thrills. The park has plenty of terrain with various challenges for seasoned riders, including cross-country routes and downhill trails. There are also two beginner trails where riders new to the sport can hone their skills. Both beginner trails are all clearly marked, making it easy for all riders to navigate the mountain depending on what type of terrain they're looking to explore.

For kids ages 10-17 looking for a summer challenge, Northstar runs a seasonal Sunday program aimed at taking their mountain biking skills up a notch. The program runs over 6 weekends and each session offers four hours of coaching from a seasoned instructor. There's also the chance to participate in the popular race series.

The bike racing at Northstar is legendary. In 2022, the resort ran a full downhill series, featuring 20 divisions for everyone to race in, including juniors. One of the biggest draws of summer racing is the after-party and awards ceremony. Food, drinks, and plenty to celebrate!

Summer visitors can book a season pass to enjoy the bike park all summer, and a 3-day pass will also be available in the summer. Visitors can also rent bikes at the resort to avoid having to bring their equipment.


Tee Time in the Mountains
One of the most popular summer things to do in Lake Tahoe is to head over to the Northstar Golf Course. Widely regarded as one of the most unique course layouts in the North Lake Tahoe region, the course was designed by famous landscape architect Robert Muir Graves. In typical Graves style, it has plenty of variety across its 18 holes, with rugged areas that help it to blend in with the natural landscape.

Thanks to tree-lined fairways, sand bunkers, and smaller-than-average greens, the course can be challenging. There's even a shot that has to be made across a narrow creek! It's an excellent course for moderately experienced golfers looking to stretch themselves, but golfers at every skill level will enjoy the beautiful terrain here.

Reservations are essential if you want to enjoy a round at Northstar, with tee times bookable over the phone or online up to 60 days in advance.


Explore Northstar on Foot
Northstar Summers are all about getting out and about. Northstar offers two hiking trails that can be accessed right on property, and there are many other amazing trails surrounding Lake Tahoe, making it easy to pick a route and get hiking! The combination of mountain and lakeside terrain makes Tahoe a hotspot for nature lovers. Flowers bloom here throughout the warm season, attracting insects and birds. If you're patient, you may spot some of the larger local animals, such as raccoons, mule deer, or a North American Porcupine.

Plenty of information is available on- and off-resort about the best places to walk and hike in the area. For resort trails check the map, decide what difficulty of walk you want to embark on, and pack the essentials. Always remember to put sunscreen on and take some with you if you're planning to be out all day. Pack some snacks and plenty of water, and ensure your cell phone is charged up — as you'll want to take plenty of photos of the beautiful scenery!

Be sure you double-check the trail type before you set off. Some trails are designated as "Biking Only," which means you or your kids run the risk of being knocked over if you come across someone conquering a particular downhill trail! From The Village, there are a couple of "Hiking Only" trails that will ensure you're only in the company of other walkers and nature lovers.

At Northstar, there's also the option to take a scenic chairlift ride to get an even better view of the mountain and the surrounding vista. It's also the ideal way to experience the cleanest, clearest, pine-scented mountain air. The chairlift rides require booking via the website and may be free with some pass variants.



Culinary Adventures

The Village is packed with fun summer things to do, including plenty of dining options for visitors of all tastes. Northstar offers gastropubs, burger joints, and après appetizers and drinks in lodge-style settings. There are also plenty of bars, so exploring the local nightlife is easy, or you can just grab a coffee and take in the summer air.

Many of the winter favorites close down for spring, but by summer, plenty are opening up again to welcome the new season's revelers. Los Arcos, Inclined Burger, Wild Pine, and Rubicon Pizzaare just a few of the top dining spots at Northstar that pull crowds during the summer months—remember to make a reservation!


Shop the Trends
Summer is a great time to go shopping in The Village and other retail locations across the resort. Famous outdoor brands like The North Face and Patagonia have boutiques here, and at True North you can pick up Northstar branded merchandise for souvenirs, and special gifts to take home. Seasonal and sporty fashion is always on trend on the mountain, so it's a great way to give your wardrobe a refresh. Find a full list of stores on the resort website.


Plan Your Northstar California Resort Vacation
It's easy to get excited about visiting Northstar, California, no matter the time of year. Keep an eye on the resort events calendar for more Northstar summer activities and find out more about staying at Northstar California Resort here.