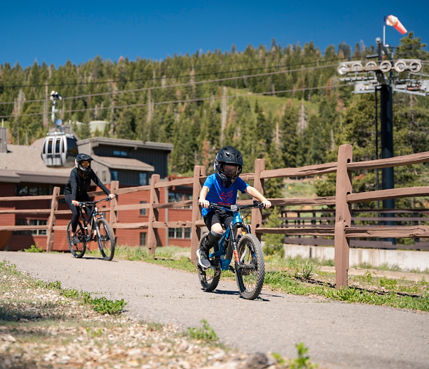 Nestled in the breathtaking landscape of the High Sierra Mountains, the Northstar Bike Park is one of the best mountain bike destinations in California. From adrenaline-pumping adventures to idyllic family getaways, the iconic bike park is a haven for summer holidaymakers. The park combines the best of summer activities to help you create many beautiful memories.

With heart-pounding downhill trails, scenic cross-country flow tracks, and exciting kids' summer camps, Northstar Resort is a gigantic ball of fun. If you are a seasoned mountain biker, or a family who loves to adventure on bikes together, the Northstar Bike Park is the perfect vacation spot.

Adventure for Aspiring Riders
Although the Northstar Bike Trails are open to riders aged 9 and older, the little ones aren't excluded from the fun. You can sign them up for the week-long kids' camp that features rotating themes with age-appropriate activities.

For the rest of the family, the Northstar Bike School sets your mountain bike riding adventure in high gear. Sign up for group or private bike lessons and learn from professional coaches.
For a more thrilling learning experience, enroll your 10-16-year-olds in the five-day mountain bike camp. The youth camp will forge the fledging mountain bike enthusiasts into exceptional riders in a safe and relaxed environment.

Grab Your Summer Bike Pass
A bike pass is necessary to unlock the freedom to conquer the grueling climbs and rewarding descents in the Northstar Bike Park. You can book your bike pass online. Preferably, you should book your tickets at least one day before your planned visit to secure the best rates. You can opt for:
An unlimited bike pass for adults and (kids over 13 years).
An unlimited kid's bike pass (5-12 years).
A four-day bike haul pass.
A day bike haul ticket.
A 2023-2024 Epic Pass provides a free Scenic Lift Ride and a 20 percent discount on bike rentals.

Exceptionally Varied Terrain
A diverse terrain offering makes Northstar one of the best mounting bike parks in California. A Northstar summer holiday puts over 100 miles of mountain bike trails at your disposal. Pick the track that fits your skills and turn your family vacation into an outdoor adventure.

Downhill Trails
You'll love the downhill trails if you're an advanced rider who thrills in descending steep slopes at breakneck speeds. These technical and challenging trails require navigating complex features at high speeds, making for a fun, exhilarating experience.

Livewire is an iconic fast-paced, flowy downhill trail that combines berms, tabletops, and jumps to deliver a roller-coaster ride that's one of the favorite intermediate to advanced downhill mountain biking trails at Northstar. The track uses a thrilling drop-in to set the pace for an adrenaline-fueled descent. The descent gives way to perfectly placed berms that carry speed and maintain a smooth flow through the corners. Livewire is one of the only bike trails in the US that's irrigated from top to bottom to help maintain quality of the dirt and integrity of the trail. The tacky surface with superior traction is a big reason people love it so much.

Cross-Country Trails
Cross-country trails offer long-distance rides for endurance-based mountain biking. They're characterized by a diverse terrain with climbs, flat sections, descents, and technical features. These accommodating trails range from beginner-friendly routes to progressively challenging and technical tracks. Popular cross-country trails at the Northstar Bike Park include Sawmill and Tahoe trails.
Flow Trails
Flow trails combine the accessibility of cross-country trails with the thrill of downhill riding to provide a smooth and flowing experience. They are less technical and demanding than downhill trails. Big Trees and Sticks and Stones trails provide a fun and flowy riding experience when mountain biking in North Tahoe.
World Class Features
Northstar Bike Park is one of the best mountain bike parks in California because it constantly reinvents itself. The Toyota Jump Park is the latest addition to the Bike Park's attractions. Revamped in 2022, the Toyota Jump Park was a collaborative effort between Sensus RAD Trails, Toyota, and Northstar Bike Park.

With impressive jumps — between 25 and 35 feet — Toyota Jump Park is a Pro-Line double diamond trail earmarked for seasoned pros.

The legendary freeride pioneer Cam Zink helped revamp the park by introducing the freestyle Motocross ramps. The new design sets a new standard for all North Tahoe Mountain bike trails.
Dedicated Space for Experiential Learning
Skills development is the key to a flawless Northstar mountain biking experience. The Gatorade Skills Zone is an interactive area designed to help you improve your skills. It provides a safe and controlled environment to learn, practice, and polish your riding skills during your Northstar summer holiday.
The dedicated space simulates real trail scenarios to provide a cushy learning environment. It features obstacles such as pump tracks, drop-off and skinnies, and rock gardens. Beginners learn fundamental techniques such as body positioning, braking, and cornering under the watchful eyes of skilled teachers.

Intermediate and advanced riders can work on specific maneuvers, fine-tune their skills, and progress their riding abilities. Qualified coaches provide tips, guidance, and assistance to ensure you have the best experience mountain biking in North Tahoe.

Action-Packed Adventure for Skilled Riders
Thanks to its rocky and challenging trails, Northstar Bike Park is one of the best mountain bike destinations in California. It delivers a custom adrenaline-pumping mountain biking adventure for experienced riders. The rugged terrain features steep descents, challenging rock gardens, off-camber sections, and technical features that let you comfortably push your limits.
The park is particularly famed for its extensive black diamond (advanced) and double black diamond (expert) trails. These trails feature narrow sections, large drops, tight switchbacks, and demanding rock features that will test your technical skills.

Navigating this technical terrain requires exceptional riding experience and precise biking handling. But the numerous gas and tabletop jumps, drops, step-ups, and berms make for a thrilling riding experience. Explore the mountain bike programs, camps and and bike lessons at Northstar to learn skills, riding technique and take your bike park experience to the next level.

A diverse trail offering lets you customize your Northstar mountain biking experience to suit your riding preference. Each trail offers distinct characteristics that help you build a wealth of biking skills. The North Tahoe mountain bike trails turn every outing into an action-packed adventure that improves your riding capabilities.

Where to Bike in Lake Tahoe?
Add Northstar Bike Park to your bucket list, and you'll never again wonder where to bike in Lake Tahoe. The bike park's proximity to the Northstar California Resort allows for a distinct mountain experience. It lets you plan a family vacation combining outdoor adventure, exceptional lodging, dining options, and various recreational activities.

Get your bike pass today!