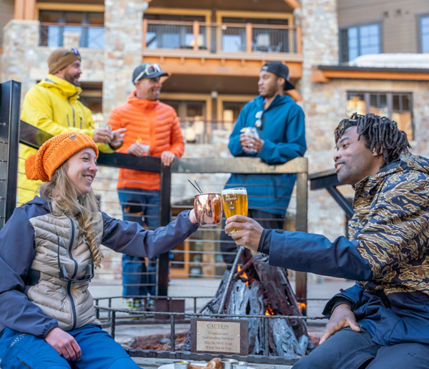 Nightlife in Northstar is about more than just après ski options. Explore a variety of unique pubs, bars and restaurants for a night out you won't forget. Many nightlife options are family-friendly, making them perfect for a night out with little ones. So take your pick and make the most of your après ski experience with Northstar's unforgettable nightlife.

Ice Skating

If you're looking for a winter wonder, après ski family experience, look no further than the Village Skating Rink. From the beautiful star-filled sky of the Tahoe night to the roaring fire pits and cozy hot cocoa, this experience truly can be likened to something out of a storybook. So take some time and relax with your loved ones at this unique spot, where spending time in good company creates lasting memories. Why not rent a cabana and kick back with a delicious cocktail? The kids can play nearby with their friends in a safe environment. And when everyone has had enough skating, no one can deny the joy of roasting s'mores over the cozy fire.

Après in Style

Looking for a cozy après experience? It's impossible to talk about bars in Northstar without mentioning Bourbon Pub at the end of the Village Run. Whether you're gathering with friends or family, they offer an inviting atmosphere and plenty of delicious options to enjoy. Their craft cocktails are a hit with adults, while kids love making s'mores around the fire pits. They also offer relaxed dining choices, perfect for a stress-free nightlife in Northstar. As part of the creative culinary vision of the acclaimed Chef Michael Mina, Bourbon Pub Northstar is here to reward your outdoor adventures in style. Enjoy juicy burgers and pair them with the perfect pint.

Moody's Bistro Bar and Beats in Truckee

Established in 2002, Moody's Bistro is the Truckee experience you've been looking for. Step inside to find a warm and inviting environment filled with a range of people, including locals, long-time visitors, and first-time tourists. Offering craft cocktails, farm-to-table eats, and eclectic world-class sounds without a cover charge, it's no wonder Moody's is considered one of Truckee's best hotspots.

Cuisine such as ahi poke, bubbling hot pizzas, braised lamb shanks, pan-roasted wild game, organic beef, and fresh seafood will have your taste buds clamoring for more. Along with amazing eats, you'll be entertained by critically-acclaimed jazz, Americana, soul and blues bands, with just a splash of hip-hop.

Blue Coyote Bar and Grill

With great drink specials and a full menu of bar-friendly food, Blue Coyote Bar and Grill has everything you need to watch the big game. Their extensive beer selection features world-famous favorites along with local beers. It's the perfect place to relax with friends, catch up on the latest sports news, or just hang out in a friendly atmosphere. Whether you're looking for drinks and apps or just stopping by for some sports action, visit Blue Coyote Bar and Grill to experience what makes the nightlife at bars in Northstar unique.

Rubicon Pizza Company

Rubicon Pizza Company is located in the Northstar Village, next to the Village Skating Rink. It's the go-to spot for delicious pizza and much more in the Northstar Village area. They specialize in classic Italian pizzas with a California twist and have an extensive menu with all sorts of yummy options ranging from appetizers to desserts. Plus, their atmosphere doesn't just focus on the food — it has the warmth and charm that captures the spirit of the High Sierra. So if you're looking for an inviting spot to enjoy pizza and other treats with friends or family, Rubicon Pizza Company is it.

Their specialty Big Mountain pizza is stacked with pepperoni, sausage, crisp bacon and Canadian bacon, giving it a unique flavor. Or make your tastebuds happy with the Four Cheese Pizza made from mozzarella, provolone, parmesan, and fontina.

Petra Wine Bar at Northstar

If you're looking for a great place to gather after a day at the resort, look no further than Petra Wine Bar at Northstar. This wine bar offers a modern, sophisticated atmosphere and locally-sourced tapas and wines for every palate. Guests can even get into the festive spirit around an outdoor fire pit, perfect for keeping warm as the sun sets.

With its proximity to the Village Skating Rink, Petra Wine Bar is an ideal spot to keep the evening going and make lasting memories. Wine connoisseurs will be in their element with the selection of 150 wines available to sample before taking home their favorite. To give you a deeper insight into their library, Petra hosts Meet the Winemaker events, where expert winemakers introduce you to new vintages and discuss the stories behind each glass.


Get Away to Northstar Resort
Northstar resort is the perfect place for your next ski getaway. World-class grooming and cozy, self-contained village lodging mean you'll have everything you need to feel inspired to hit the slopes. Be sure to save time for the daily "Tost," an afternoon champagne toast on top of the mountain. After a day in the elements, you can relax by the ice rink fire pits and make s'mores as the sun sets and beyond. Plus, safety is a big priority at Northstar resort, so you'll never have to worry about anything but making unforgettable memories with family and friends.
Plan your adventure
today.