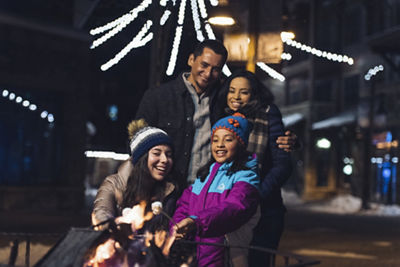 Finding your home base is the first step towards spending time together as a family.
Our private homes
and condos are ideal for traveling with kids, offering game rooms, laundry and other family-friendly amenities. The free dial-a-ride shuttle service to and from the Village makes coming and going a breeze.
If it's been a while since your family has put on ski boots, or if it's the first time ever, starting your trip off with a
Private Family Lesson
can help make your time on the mountain together memorable, safe and fun. Our expert instructors customize the lessons to serve families (ages 3+) with varied riding abilities—making the time valuable for everyone.
For the little ones who aren't quite ready for the slopes,
Northstar Childcare
is the only resort-licensed childcare facility on Lake Tahoe's North Shore and a great option for families traveling with 2 to 6-year-olds. It is located near the Village, with free parking and shuttle service for parents.
After enjoying your day on the mountain together, head to the Village for apres ski and complimentary s'mores, served every day at 4pm. The kids will love roasting their own marshmallows over an open fire pit, while you relax in a nearby cabana. Every Thursday and Friday evening you'll find holiday festivities in full swing, including sleigh rides, face painting, outdoor music, and picture-perfect holiday photo opportunities.
From mornings spent watching your family accomplish something new together, to those cozy evenings around a fireplace laughing and celebrating, make this season one to remember.