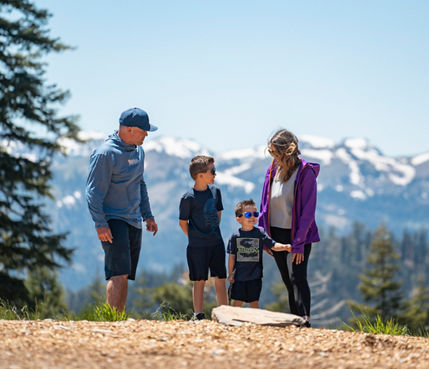 Want to experience amazing sightseeing in North Lake Tahoe? From the moment you arrive at Northstar Resort, you'll be immersed in some of the most spectacular landscapes imaginable. That first glimpse of the jewel-toned waters of Lake Tahoe is especially memorable – you'll pull out your camera and barely put it away during the entire vacation!

With a little planning, your North Lake Tahoe sightseeing adventures will be even more rewarding. Be sure to include in your itinerary at least a few of the most awesome overlooks, iconic landmarks, and photogenic gems near the resort. Plus, sightseeing in North Lake Tahoe is versatile. You can discover the best North Lake Tahoe scenic views on foot, by car, or by getting out on the pristine waters of the lake itself.



Scenic Chairlift Rides
One of the most popular way to see the expansive outdoor sights and panoramic views at Northstar Resort is to take one of the
scenic chairlift rides
. This not-to-be-missed opportunity for sightseeing in North Lake Tahoe is typically available from mid-June through September, weather permitting. Tickets are needed, and available online.
Take the Big Spring Gondola, Tahoe Zephyr Express, or Vista Express, and soar up the mountain to around 8,610 feet. The breezy ride is a scenic journey that offers its own unique perspective of the mountain scenery. At the top, enter a spectacular high-alpine setting with dense forests of white pine and red fir trees, plus an unrivaled panorama of Lake Tahoe. Visitors often
plan a hike
or lunch at the top.
Hikes to North Lake Tahoe's Scenic Spots
Some of the most
scenic hiking trails in North Lake Tahoe
are in the high elevations of Northstar Resort, accessible via chairlift. Consult the Northstar
trail map
to find the best hiking trail for you. Be careful and avoid bike-only trails and stick to mixed-use trails, such as Tryumph and Snake, or hiking-only trails like West Martis Creek, Village Run, and Sawmill Lake.
It's easy to connect multiple trails into a custom loop. The Tahoe Trail from the top of Vista Express, for example, connects to the East Ridge and Monument trails that lead to the 8,610-foot summit of Mount Pluto. The views along the way to this high peak are incredible. Plus, you'll be standing on top of the extinct volcano that created Lake Tahoe some two million years ago.
From Northstar, you can access a section of the
Tahoe Rim Trail
. This remarkable long-distance route loops around the entire Lake Tahoe Basin. Serious hikers could tackle a local stretch of the famous
Pacific Crest Trail
, which crosses the western side of Lake Tahoe in the Desolation Wilderness.
Outside the resort are countless more trails to consider if hiking is your favorite way to go sightseeing in North Lake Tahoe. Shoreline hikes are popular, as they cover flatter ground and reward you with beach, forest, lake, and mountain scenery all in one vista. Consider sections of the
East Shore Trail
, which include over 10 miles of paved paths and bridges. You could also take the 1.8-mile paved hike to the
Stateline Fire Lookout
in Crystal Bay for one of the best panoramic views of the lake.
Scenic Cruises from North Lake Tahoe
North Lake Tahoe sightseeing cruises are a delightful way to take in the scenery while enjoying some time on the water. Options include the 120-passenger paddlewheeler,
Tahoe Gal
. It departs several times per day from Tahoe City, about 15 minutes from Northstar Resort. Options include a brunch cruise along the west shore of the lake, a lunch cruise to Emerald Bay, and sunset dinner cruises.
How about a North Lake Tahoe sightseeing cruise by luxury sailboat? Consider
Tahoe Sailing Charters'
daily public sails from Tahoe City Marina and
Action Water Sports'
Sierra Cloud Catamaran sailing cruise from Tahoe Vista.
Beautiful Beaches Near Northstar


Deciding what to see in North Lake Tahoe can be tricky in the best possible way! Forests, creeks, mountain slopes, waterfalls, and charming lakefront towns all compete for your attention. Possibly the most unmissable of them all are North Lake Tahoe's beautiful beaches.

You don't need to venture far from Northstar to reach multiple beaches, all ideal for sightseeing in North Lake Tahoe. Options range from popular, large beach parks with plenty of amenities to secluded, quieter spots that you might be lucky enough to have to yourself.

A few of the popular beaches near Northstar include:
Scenic Drives in North Lake Tahoe


Any scenic drive in North Lake Tahoe from Northstar Resort begins with the six-mile trip south on CA-267, which will take you into Kings Beach. From here, choose to head east or west on SR-28, depending on your preferred route for sightseeing in North Lake Tahoe.

Check out some of these options for scenic drives in North Tahoe for views of the lake and Sierra Nevada mountains.
Drive part or the entire loop around Lake Tahoe. The 72-mile drive offers breathtaking views of one of the most beautiful lakes in the world and is considered a must do for scenic drives. It takes about three hours non-stop, but if you take breaks for sightseeing, lunch, and activities, you can spend an entire day. You can also drive as far as you'd like down the east or west shores of the lake and back again. Both directions offer plenty of spectacular viewpoints and fun spots to explore.
Drive down the west shore, and you can reach local landmarks such as Carnelian Bay, the wildlife-rich spot in Tahoe City, where the Truckee River flows from the lake. Sugar Pine Point State Park is another beautiful location and features enormous pine trees. You could also drive 43 miles to Lake Tahoe's famous and most photographed location: Emerald Bay State Park.
Driving along the eastern lakeshore, mostly on the Nevada side as far as Zephyr Cove, takes about one hour without stopping. Do stop to see the sights of Incline Village, the enormous granite boulders of Crystal Bay, and the stunning sandy beach, rock formations, and especially clear waters of Sand Harbor State Park.



Excited for Sightseeing in North Lake Tahoe?
Plan a stay at Northstar Resort
with adventure packed days of sightseeing in spectacular North Lake Tahoe. Explore the resort and book your next family vacation today!