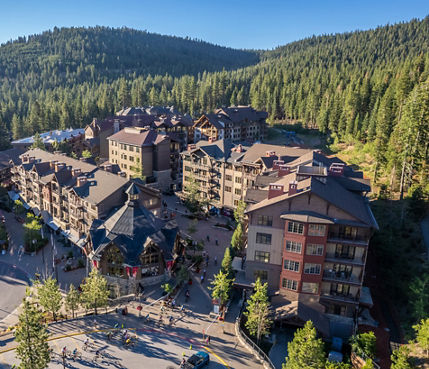 Hidden just beyond NorthStar California is the adventure of a lifetime. It's a chance to experience a little piece of paradise before heading home — North Lake Tahoe Waterfalls.

Wildflowers, towering pine trees, and glistening waters are just a few attractions North Lake Tahoe offers. As the snow melts, nature reclaims the surrounding forests, bringing forth wildflowers, flowing creeks, babbling brooks, and waterfalls. These hidden gems are located just a short drive from the resort and are at their best after the snowmelt.



North Lake Tahoe Waterfalls
North Lake Tahoe is a popular destination for thrill seekers and vacationers alike. The area offers bike trails, climbs from moderate to advanced, cooling water to take a dip, and awe-inspiring forest views.
People often come here to view the wildflowers and, as a happy coincidence, learn there are other gems like waterfalls nestled along the trail. You can enjoy two waterfall hikes in North Lake Tahoe, and both are stunning. They are Eagle Falls and Shirley Canyon Falls.
Eagle Falls
Eagle Falls
is one of the most visited attractions along the Eagle Falls Trail in Emerald Bay State Park. Located along the northwestern shore of Lake Tahoe, Eagle Falls is one of the most popular North Lake Tahoe waterfall hikes. These falls offer a captivating spectacle of cascading water against the backdrop of a forested landscape.
The hike to Eagle Falls begins at the Eagle Falls trailhead, where parking is often at a premium. This popular 1.5-mile round-trip journey takes you through rocky sections and smaller climbs, which require only a little effort.
Heading toward the falls, you'll notice rocky outcrops, granite formations, and the beautiful greenery of surrounding pine trees. Soon enough, you'll hear a roar from the falls, followed by glistening water streaming down the rocks. From here, you'll have the most breathtaking view of Emerald Bay and Fannette Island. This trail also features interpretive signs giving you the history and geology of the area.
If you're a wildlife seeker, this area will not disappoint. Eagle Falls Trail is known for beautiful bird species, black bears, and deer.
Shirley Canyon Falls
Shirley Canyon Falls is located near Squaw Valley in North Lake Tahoe. This easily accessible trail begins at
Shirley Canyon trailhead
and takes you upward through a canyon surrounded by North Lake Tahoe's best views.
The terrain becomes more rugged as you get closer to the waterfalls, but the climb is worth it. Mist from the falls will cool you on a warm day and create rainbows in the sunshine.
The trek to Shirley Canyon Falls isn't long: four miles in and out. However, it's a moderately challenging hike, so watch your footing. You'll encounter patches of rocky terrain in some areas and brooks to cross in others, so be prepared.
Wearing amphibious, quick-dry hiking shoes is a good idea.
Waterfalls Near South Lake Tahoe
Three fantastic waterfalls near South Lake Tahoe are definitely worth adding to your list of sightseeing adventures.
Horsetail Falls
Horsetail Falls
is a 2.2-mile hike from
Pyramid Creek trailhead
in the desolation wilderness. It begins as a casual stroll along granite walls and pine trees before unfolding to steeper sections of rugged terrain. This moderately challenging hike might get your heart going, but the views from Horsetail Falls will keep you going.
When you reach the falls, take a deep breath and look around at the brilliance of Lake Tahoe. Snow melt from up above supplies Horsetail Falls in the spring, adding volume to its gushing streams.
This popular trail has limited parking, so plan an early trip or use
TART
Route 50 to get here.
Glen Alpine Falls
Glen Alpine Falls is another popular South Lake Tahoe waterfall attracting hundreds of visitors yearly — and it's easy to see why.
This gem is nestled along the
Glen Alpine Falls
trailhead. If you come during the summer, you'll experience the intoxicating aroma of the surrounding pine trees and abundant wildflowers. As you get closer to Glen Alpine Falls, you'll feel the rumbling of the water under your feet.
The falls are only half a mile from the Glen Alpine trailhead, so you don't have to wait long before beholding their full glory.
Cascade Falls
Just a skip over from Glen Alpine Falls is
Cascade Falls
. This natural formation is located 0.75 miles from the Bayview trailhead parking area.
The trek is short, but most people stop several times along the trail to take photos. The panoramic views and El Dorado National Forest are amazing from here. With the sun shining on this 200-foot waterfall, the reflections create an illusion of diamonds tumbling down granite steps. You can capture both the waterfall and background vistas from this vantage point.
The trail to Cascade Falls is peppered with patches of wildflowers, rocky outcrops, and granite boulders, all worth a second look.
Best Time to Visit Waterfalls Near North Lake Tahoe
Although you can visit these North Lake Tahoe Waterfalls anytime, spring and summer are the most popular months. This is when snowmelt feeds the falls. Wildflowers are also abundant during this time, adding a splash of color to already beautiful scenery.
North Lake Tahoe offers plenty of swimming areas to take a dip after viewing the falls. However, the water is cold (warmer in shallow areas), so if you're not wearing diving gear, you'll probably want to splash around for only a few minutes.
Keep in mind that North Lake Tahoe hikes with waterfalls follow pack-in and pack-out principles. This ensures you only leave your footsteps behind. This is critical to the preservation of wildlife and the forest's delicate ecosystem.
Embrace the Magic of North Lake Tahoe Waterfalls
Immerse yourself in the splendor of North Lake Tahoe, where natural wonders await you around every corner. Be sure to visit at least one of these waterfalls in North Lake Tahoe on your next trip to the Lake Tahoe area. Whether you choose the tranquil beauty of Eagle Falls or the roaring wonder of Cascade Falls, each destination offers an unforgettable adventure.
To get the most from your visit, extend your stay at
Northstar California Resort
. After an exhilarating day of North Lake Tahoe waterfall hikes, why not explore the rest of North Lake Tahoe and see what other adventures are in store?