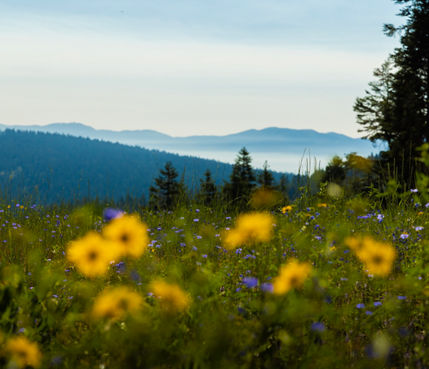 North Lake Tahoe is a great destination for outdoor lovers. Along with breathtaking landscapes, the area has plenty of thrilling adventures. If you're seeking an unforgettable experience, rafting the rivers around North Lake Tahoe is a must-try activity.

Check out these top places for North Lake Tahoe rafting and plan a grand adventure for the whole family.


Rafting Tours in North Lake Tahoe
Lake Tahoe is located 6.2 miles from Northstar Resort, and the pristine rivers in the area make it a great location for rafting adventures. As you hone your rafting skills, you'll be treated to stunning views of towering mountains, lush forests, and crystal-clear lakes.
The thrill of the rapids combined with the natural beauty surrounding you will make for an exhilarating experience you won't soon forget.
1. Truckee River Raft Company
Along this rafting route, you'll enjoy thrilling rapids with tranquil stretches of water. Plus, the location is perfect, offering diverse terrain and changing landscapes as you navigate the river.
A rafting tour with
Truckee River Raft Company
will leave you with unforgettable memories. It has everything you'll want, from exciting twists and turns to awe-inspiring views. Aside from the thrilling rapids, some sections of this rafting route also offer calm currents.
Although you can start your journey at different points, the locations are only a few minutes from Northstar Resort by car. You can also use rideshare services like Uber and Lyft if you don't have a vehicle.
Please note: Truckee River Raft Company closed for the 2023 summer due to the unusually high snowfall, so be sure to check before heading their way. Also, this rafting route is float or raft at your own risk, so be sure you and your party are prepared.

2. Irie Rafting Company

Irie Rafting Company offers thrilling rafting tours in North Lake Tahoe. They provide a range of exciting options for different skill levels. Choose from the Rapids Expedition for adrenaline junkies, the Scenic Float for a leisurely experience, or the Family Fun Adventure for a family-friendly outing. With expert guides, they ensure a safe and unforgettable adventure.

Accessing their services is hassle-free as they're located just 4.5 miles from Northstar Resort. It's a 10-minute drive, or you can use rideshare services like Uber or Lyft. Check with Northstar Resort for any shuttle services they may provide.

3. Tahoe Whitewater Tours

Tahoe Whitewater Tours is popular for those seeking a family-friendly rafting experience. Located in a picturesque area, this tour offers a variety of routes suitable for different skill levels. Additionally, Tahoe Whitewater Tours provides amenities such as picnic areas and riverside beaches, making it a perfect choice for a day of fun and relaxation.

If you stay at Northstar Resort, Tahoe Donner is only 12.3 miles away. Depending on traffic conditions and route, it will take you roughly 20 mins to get there.

4. Truckee River Rafting

Look no further than Truckee River Rafting for an exceptional North Lake Tahoe river rafting experience near Northstar Resort. Truckee River Rafting provides an exciting and scenic journey through the region's heart. As you navigate the rapids of the Truckee River, you'll encounter tranquil stretches of water, lush greenery, and wildlife. While there are harsh rapids, you can also choose to raft through sections with calmer waters.

This attraction is only 6.7 miles away from Northstar Resort and a 15-minute drive. Enjoy a round of golf at the Northstar Golf Course in the morning and then head to the rapids later.

5. Tributary Whitewater Tours

Tributary Whitewater Tours is a premier provider of thrilling whitewater rafting experiences in North Lake Tahoe. With professional guides and various tours for all skill levels, they offer exciting rafting tours tailored to different preferences.

You can choose the Classic Rapids tour for an adrenaline rush, the Scenic Float for a relaxed and picturesque experience, or the Family Adventure tour for a safe and enjoyable outing with your loved ones. Located conveniently near Northstar Resort, accessing Tributary Whitewater Tours is hassle-free. While the exact distance may vary depending on the rafting route, most are within a short driving distance.

For instance, one of Tributary Whitewater Tours' outposts at Truckee River is only 11.4 miles away, meaning it'll only take fifteen minutes to drive there. However, they also have an outpost 88.6 miles away, which takes over one and a half hours to get to by road from Northstar Resort.


Planning Your Rafting Trip
Before embarking on your rafting adventure, consider a few essential factors. Safety should always be a priority, so choose a reputable tour company with experienced guides. Additionally, check the equipment the tour operator provides and ensure it meets safety standards. You should also consider the duration of the rafting trip and route, as they will determine the level of skill and endurance required.
Booking your tour in advance is highly recommended to make the most of your rafting experience. Rafting tours in North Lake Tahoe are in high demand, especially during peak seasons (April to September), so securing your spot early is essential. Check the websites of tour companies to find booking information and make reservations conveniently.
Safety Measures and Precautions
Safety should always be your top priority when rafting in North Lake Tahoe. To ensure a secure and enjoyable experience, it's crucial to understand the risks involved and follow safety guidelines.
To enhance your safety during rafting tours:
Wear appropriate safety gear, including personal floatation devices (PFDs)
Listen attentively to your guides
Choose a tour suitable for your skill level
Be aware of your surroundings
Stay hydrated and protect yourself from the sun
NorthStar Resort: The Perfect Place to Base Your Whitewater Rafting Adventure


Plan a vacation to Northstar Resort and experience the fun of whitewater rafting. The resort is located just an hour away from the rafting companies, and it offers a variety of amenities to make your stay enjoyable. After a day of rafting, relax and unwind in the resort's hot tubs, go golfing, or take a hike in the surrounding mountains. Northstar Resort is the perfect place to base your whitewater rafting adventure in North Lake Tahoe.

Here are some of the reasons NorthStar Resort is perfect choice for your whitewater rafting adventure:
Located just an hour away from the rafting companies, you can easily get to and from your adventure.
The resort's variety of amenities make an enjoyable stay, including a variety of lodging options and lots of fun activities at the Northstar Resort from mountain biking, chairlift rides, golfing, and sightseeing.
The resort is family-friendly, so you can bring the whole family along for the adventure.
Plan a whitewater rafting in North Lake Tahoe, at NorthStar Resort. You won't be disappointed!