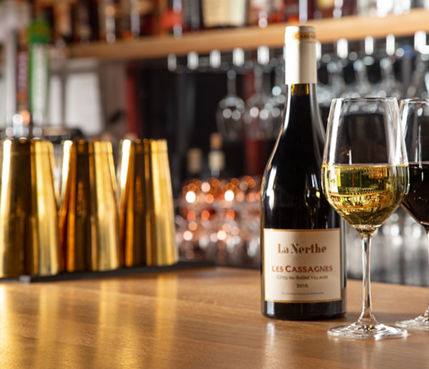 If you're looking for the best Wine Bars in North Lake Tahoe, look no further. These resort and town options are sure to please any oenophile with their impressive selection of wines and amazing small plates that pair perfectly with your favorite glass.

With cozy spots and spectacular views, you're sure to find a favorite place that fits your preferences. You can start by checking out these top North Lake Tahoe bars.

Petra at Northstar

Petra at Northstar is part of the Uncorked family, a collection of wine bars in the region. The food includes tempting main dishes as well as small-plate shareables designed for those living their best après-ski lives.

But the wine is the star of the show. The passionate, knowledgeable staff has curated a show-stopping selection. It was recently labeled a destination wine bar — and one of the best restaurants in the area — by a senior Forbes Travel writer Kim Westerman.

The deep wine list combines the best of the New World with an extensive selection of Old World vines. Don't be surprised if you wind up taking a bottle back to enjoy later. Uncorked also offers wine classes for those looking to sharpen their palates or explore something new.

You can find Petra in the resort near the ice rink.

Location: 3001 North Village Drive, Suite 3112, Truckee

Tōst

One of the top wine bars in North Lake Tahoe is also the top bar in the area in terms of elevation. This ski-up bubbly bar is family-friendly and offers sparkly apple cider as well as sparkling wine.

Enjoy a one-of-a-kind experience as you raise a glass and make some memories at Tōst. Weather permitting, join in a daily 2 pm toast to the mountain. Try to get there by 1:30 pm, so you're ready to cheer — and grab an Instagram-ready picture while you're at it.

Location: Off Northstar's East Ridge Trail on the mountain

The Living Room at the Ritz Carlton

Made for après-ski, The Living Room is the resort hotel's version of at-home comfort. But it comes with a gorgeous, extensive wine list. It's a mixture of bar and lounge, the ideal place to sprawl on comfortable couches after a hard day on the slopes.

You can also enjoy the Ritz's wine list in some of its other establishments. Depending on your mood, you can choose between innovative cuisine at Manzanita or light bites and sensational views at the Highlands Bar.

Location: 13031 Ritz-Carlton Highlands Court, Truckee

Glasses

Glasses is a unique creation, a wine bar/reading room. After retirement, the proprietors wanted to combine their life-long commitment to literacy with their passion for wine.

Located in nearby Incline Village, Glasses invites patrons to come in with their own books and games or to borrow one from the bar. It's a comfortable place to hang out with real-life friends or curl up with fictional ones while you enjoy a glass of wine.

On Saturdays, they have live music. During the week, they have happy hours with discount wine tastings and glasses.

Location: 760 Mays Boulevard Suite 8, Incline Village

Tahoe Wine Collective

If you want to explore the offerings of local vineyards, you might take a trip to Tahoe City to do some North Lake Tahoe wine tasting at The Tahoe Wine Collective. Don't worry. If you like what you find, you can join their wine club to ensure that you get to enjoy regional wines all year long.

Check the event calendar before you go. The Tahoe Wine Collective frequently has live-music happy hours and community-focused events featuring local entertainers or artisans.

Location: 760 North Lake Boulevard, Tahoe City

The Pour House

The Pour House in Truckee is a wine shop that also offers specialty cheeses and other wine-pairing foods. It's a great place to pick up a gift, but they're also open in the afternoon and early evening for in-shop drinking.

Location: 10075 Jibboom Street, Truckee

Spindleshanks

Spindleshanks is an American bistro and wine bar with a stunning view of the lake. It's a great place to do some North Lake Tahoe wine tasting. The wine selection and tasting flights change regularly, as does the food menu, reflecting the changing seasons.

Spindleshanks also serves breakfast and lunch, so if you need a mimosa with a hearty breakfast, you might check it out.

Location: 400 Brassie Avenue, Suite B, Kings Beach

Pianeta

For those who specifically crave Italian varietals, Pianeta is a solid option. This Italian eatery has an extensive wine list, including an ample selection of by-the-glass options available at the bar. And, of course, you can always order some antipasti and pasta to accompany them.

Location: 10096 Donner Pass Road, Truckee

Honorable Mention: Bourbon Pub

Wine may not be the star at the aptly named Bourbon Pub in The Village across from the gondola. But this watering hole in The Village does have a wine list to go with the food from celebrated Chef Michael Mina. You'll enjoy the chef's wonderful take on elevated comfort food, particularly after a day working hard on the slopes.

Besides, your favorite wine will understand if you want to play the field and sample one of the artisanal cocktails on offer.

Location: 8001 Northstar Village Drive, Suite 8114, Truckee


Raise a Glass at One of the Best Wine Bars in North Lake Tahoe
Whether you're a fan of white, red, or rosé, you can find an exceptional glass of wine at Northstar. It's the only place you can toast with champagne in a ski-up bar.
Why not start at Petra for some carefully curated wines?
Reserve a table today
and get sipping. Then you can explore the rest of what North Lake Tahoe has to offer.