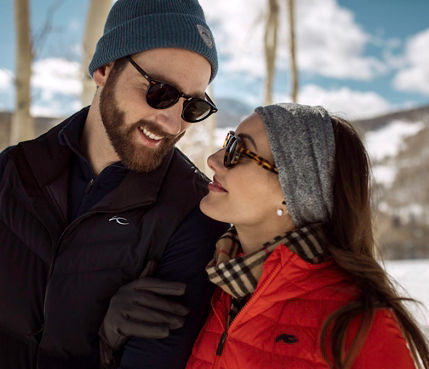 If you're looking to plan an unforgettable honeymoon, North Lake Tahoe is the perfect, enchanting romantic destination. Nestled amidst the pristine beauty of an alpine wonderland, North Lake Tahoe's breathtaking vistas, crystal-clear waters, and serene mountain charm offer an idyllic backdrop for couples seeking a scenic, romance filled post-wedding getaway.

Whether you're drawn to the allure of cozy lakeside cabins, fun outdoor adventures, or intimate moments by the fireplace, there is something unforgettable about the North Lake Tahoe honeymoon experience, no matter what time of year you visit.

Dive in and uncover the most romantic spots, activities, and accommodations, for a cherished honeymoon memory that lasts a lifetime.

Romantic Lodging at Northstar Resort

If you're looking to plan a romantic honeymoon to jumpstart your new life together, look no further than Northstar Resort. Choose from luxury hotels or exclusive residences with top-tier amenities and world-class views for the most romantic places to stay in North Lake Tahoe.

At the One Village Place Residence, you can book a contemporary one-bedroom luxury residence as your honeymoon suite or stay at the Constellation Residences for a spacious villa with upgraded finishes and 360-degree views of the Sierra Nevada.

Other romantic lodging options at Northstar Resort include the luxury North Lake Tahoe hotels, at the Hyatt Vacation Club and the luxurious Ritz-Carlton. The hotels offer a range of top-tier amenities, from in-room fireplaces, ski-in and ski-out access, spacious rooms and, of course, exceptional service.

Relax and Unwind with a Couple's Massage

No North Lake Tahoe honeymoon would be complete without indulging in the world-class Ritz-Carlton spa at Northstar Resort. Located at the top of the Highlands Gondola, the Ritz-Carlton offers a relaxing experience nestled among the towering pines and crisp mountain air of the Sierra Nevada.

Couples can experience a relaxing 50- or 100-minute massage with local hot stones from Lake Tahoe, a variety of essential oils, a choice of massage type, and complimentary champagne, all enveloped within luxury rooms adorned in rich wood. The Ritz-Carlton spa is a must-do on anyone's list looking to honeymoon in North Lake Tahoe.

Ice Skating and S'More Delights at The Village

If you're planning on visiting North Lake Tahoe for a winter honeymoon, you won't want to miss ice skating at The Village. A perfect end-of-day or midday break is well spent at Northstar's 9,000-square-foot ice skating rink. Ice skating is free, and rentals are available. After you finish on the ice, gather around with your new honey and warm up with pre-made s'more kits by one of the many fire pits around the rink.

Dinner With Candlelight and a View

If you're looking for an intimate dinner for two, the Ritz-Carlton has just what you need. Located inside the hotel, Manzanita offers fine dining, an extensive wine list, and intimate seating, all against the backdrop of sweeping views of the Sierra Nevada range. Guests can delight in dishes such as sundried tomato and kalamata focaccia, diver scallops, and Maple Farm duck breast.

Another option for the most romantic restaurants in North Lake Tahoe is La Fondue Restaurant and Bar. Along with the exquisite menu, the atmosphere and ambiance are what make La Fondue a complete experience. With its old-world charm and sharable dishes, La Fondue is the shining star if you're looking for the perfect intimate dinner on your North Lake Tahoe honeymoon.

Open only in the evenings, La Fondue features a complete four-course meal that lasts for approximately two hours. Guests are served an array of Australian lamb, Wagyu beef, and vegetables from the local farmer's market. Everything is designed to coordinate with a selection of broths and cheeses for a full fondue experience.

Sail into Your Future with a Sunset Lake Cruise

Once you decide to leave your honeymoon suite, you can experience a sunset lake cruise. There are several different tour options available but Lake Tahoe Bleu Wave is one of the best for experiencing a private dining sunset tour that's perfect for your North Lake Tahoe honeymoon.

With Lake Tahoe Bleu Wave, you can choose to explore the north shore, west shore, or you can choose to create your own cruise course to take you over the crystal-clear waters of Lake Tahoe. No matter which tour you choose when looking for romantic things to do in North Lake Tahoe, you can't go wrong with a perfect sunset cruise.

Indulge in Wine Tasting for Two

Another great experience for your North Lake Tahoe honeymoon is visiting one of the exemplary wineries in the area. Uncorked + Petra is an excellent choice if you're looking for a romantic restaurant in North Lake Tahoe with a great wine-tasting selection, a cozy atmosphere, and a delicious meal.

On the extensive wine list, you'll find labels such as Anthill Farms Pinot Noir, Meo-Camuzet Bourgogne Côte-d'Or Rouge, and Clos Beauregard. Along with the weekly rotating wine-tasting selections, Uncorked + Petra also serves artisianally crafted charcuterie boards with regionally selected meats and cheeses.

Explore the Outdoors in North Lake Tahoe

Northstar Resort winter and summer trails offer the perfect outdoor setting for a scenic honeymoon. In the winter, couples can travel through snow-covered forests exploring the 35 kilometers (about 21.75 mi) of scenic, groomed trails at the Northstar Nordic Center. One of the largest and most popular cross-country skiing and snowshoeing areas in Lake Tahoe, trails range from beginner to expert, with stunning views of the surrounding mountains. The center also has a variety of amenities, including a warming hut, rental shop, and snack bar. Glistening snowflakes and cozy fireside lodges set the romantic backdrop for your day.

In the summer, the resort transforms into a lush wonderland, inviting lovebirds to hike North Tahoe's scenic trails, bike through alpine meadows, or enjoy a leisurely stroll along picturesque paths. The beauty of Northstar's diverse landscapes, whether blanketed in snow or bathed in summer sunshine, provides an idyllic setting for a honeymoon filled with unforgettable adventures and cherished memories.


Make North Lake Tahoe Your Honeymoon Destination
Experience best-in-class service at Northstar Resort for your North Lake Tahoe honeymoon destination.
Book your honeymoon lodging
and enjoy everything North Lake Tahoe has to offer. With pristine trails, plenty of après-ski, and romantic activities, Northstar Resort is the perfect honeymoon destination to begin your forever.