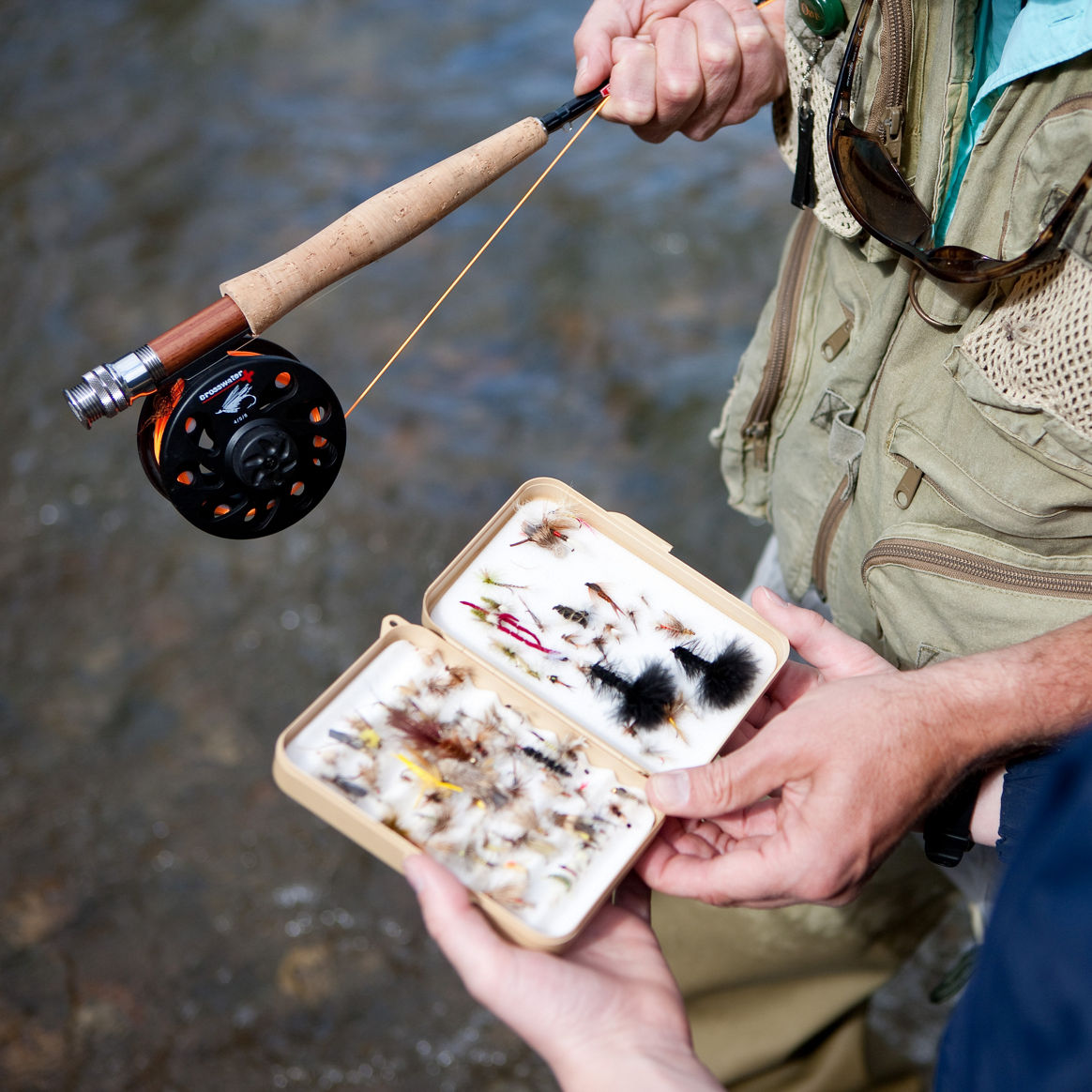 What better way to spend your spring and summer days than beside glistening waters while fly fishing near Northstar at Lake Tahoe? With 72 miles of pristine shoreline and many smaller lakes in the area, it's no wonder visitors come from all over to experience Lake Tahoe fly fishing trips. We've gathered the top six places for the best fly fishing in and around Northstar to make your next stay unforgettable.


1. Sawmill Lake

If you're looking for exclusivity and amazing views on your next Lake Tahoe fly fishing trip, look no further than Northstar's private Sawmill Lake. This stunning 10-acre lake at Northstar Resort has plenty of rainbow trout to satisfy any angler. Available by reservation only, Sawmill Lake is the perfect spot for either shoreline or float fly fishing. However, there is a four-rod limit, and the lake is catch-and-release fly fishing only. Before visiting, you must confirm your fishing-day reservation via phone or email.

To get a more bespoke experience fly fishing near Northstar at Lake Tahoe, the resort has partnered with Tahoe Fly Fishing Outfitters to provide unique, guided fly fishing tours on Sawmill Lake during the summer. Choose from half-day or full-day tours and immerse yourself in the outdoor beauty of the lake and surrounding scenery with the top North Lake Tahoe fishing guides.


2. Donner Lake

Donner Lake is in Truckee, California, just north of Northstar Resort. A small freshwater lake, Donner boasts quite the reputation for fly fishing in the area. The lake is stocked with tons of rainbow trout, brown trout, and kokanee salmon. Additionally, there are 25-pound mackinaws regularly caught from the lake, but anglers are only allowed to keep up to 10-pounders. There are no bait restrictions, but a valid fishing license is required. You can reach the lake from Northstar Resort by taking 267 North to 80 West.


After a full day of fishing on Donner Lake, head back to the resort to grab a few slices of pie or a sub at Rubicon Pizza. Diners can enjoy gourmet fire-roasted medley pizza or the chef's signature spaghetti bolognese paired with an ice-cold beer or signature cocktail.


3. Prosser Creek Reservoir

13 miles from Northstar Resort lies the Prosser Creek Reservoir in the Tahoe National Forest. This sprawling freshwater lake boasts miles of developed shoreline perfect for any serious fly fishing enthusiast. Along with the range of trout species, you can snag small and largemouth bass and a few different types of sunfish. You can find trout pools by the Highway 89 entrance, but for the best fly fishing spots, you'll want to travel further upstream. The lake is open year-round from sunrise to sunset.


4. Martis Creek Lake

After a 25-minute drive to the northwest of Northstar Resort, you'll find yourself at Martis Creek Lake. The first trophy trout catch-and-release lake in California, Martis Creek Lake, was formed in 1972 upon the completion of the nearby dam. The lake is fully stocked with rainbow, brown, and cutthroat trout. Live bait is prohibited at this lake, so you must pack flies, artificial lures, or barbless hooks. Serious anglers will agree that Martis Creek is one of the best locations for fly fishing near Northstar at Lake Tahoe. After a day of fly fishing, rent a bike at the resort for a scenic evening ride along the mountainside.


5. Ella's Lake

Around 13 miles east of Northstar Resort, you can find Ella's Lake, formerly Dry Lake. Located off the beaten path, this small alpine lake is a little tricky to get to but worth the peace and serenity once you arrive. You'll need to hike up and in to get to the lake, so be sure you're packing light. If the short hike doesn't worry you, the payoff at the end is gratifying. Full of rainbow trout and smallmouth bass, this fishing hole is quite popular with the locals.

You can explore the six-mile hiking trail after fishing to make the day a full adventure. The lake and surrounding areas were home to an indigenous population, including the Washoe Tribe, whose existence at the lake has been traced by archeologists back about 2,000 years, in fishing camps and milling sites located around the lake and along streams.

6. Agate Bay

Many anglers will agree that there's no better place for fly fishing near Northstar at Lake Tahoe than Lake Tahoe itself! Less than 10 miles from the resort, you can find Agate Bay in North Lake Tahoe, between Carnelian Bay and Kings Beach. This easy day trip from Northstar provides those looking for plenty of shorelines and direct access to the water. Like other spots on this list, there are no bait restrictions in Agate Bay, but you will need a fishing license.


How to Get a California Fishing License
You'll need a valid fishing license if you plan a fly fishing trip to any of the locations above. You can apply to get a California license on the
California Department of Fish and Wildlife website
. The state provides options for short-term, annual, and lifetime permits.
Ready to Plan the Ultimate Northstar Fly Fishing Trip?
Get ready to take your next great summer vacation when you plan a trip fly fishing near Northstar at Lake Tahoe. Whether you're a newbie or an experienced angler, there's something for everyone at Northstar! Book your stay and experience the beauty of the surrounding Martis Valley mountains, amazing resort dining and entertainment options, and one-of-a-kind guided fly-fishing adventures.
Visit our website
today to start planning your ultimate fly-fishing trip at Northstar!