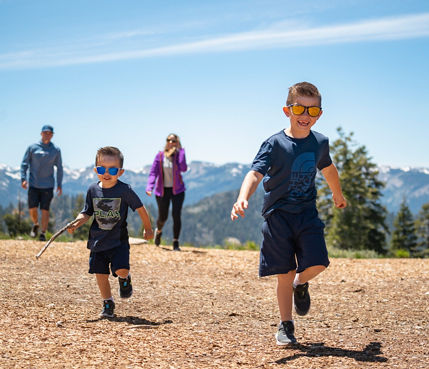 If you want to do something fun with the kids, pack a lunch, grab their hiking boots, and explore the best kid-friendly hikes in North Lake Tahoe.

North Lake Tahoe is at the center of dozens of trails. These paths weave through neighboring forests and gorgeous scenery, offering adventures around every corner. During these hikes, your kids will discover waterfalls, babbling creeks, wildlife, and cool rocks. They'll even get the chance to ride a tram down the mountains.

If you're visiting NorthStar California and want to add to a fulfilling trip that your family will never forget, visit one of these stunning easy hikes in North Lake Tahoe.


Tahoe Meadows Interpretive Loop

Tahoe Meadows Interpretive Loop is one of the North Lake Tahoe hikes kids love. This short trek is full of fun. It's 1.3 miles and paved flat, making climbing easy for the kids. The trail winds through a vibrant meadow bursting with colorful wildflowers – and if you look close enough – you might spot a lizard or a turtle.

This area is known for birdwatching, so don't forget the binoculars. Watch your children's faces beam as they spot mountain bluebirds, red-winged blackbirds, and sky-soaring sparrows.

Aside from being fun, the trail is also educational. Interpretive signs along the trail provide valuable information about the plants and flowers you'll spot along the way.

During your trek, keep an eye out for rattlesnakes. Although they're rarely spotted, they're known to venture out in the warmer months. Stay on the trail and keep your children (and dog) close by to be safe.

Making it More Fun: Easy kid hikes in North Lake Tahoe are full of adventure, but there are ways to make them more exciting. Why not host a Nature Scavenger Hunt? To play this game, use the Interpretive Signs to create a list of items for your kids to spot along the trail. Or print out a sheet with pictures of specific items for them to find.


Stateline Fire Lookout Trail

This well-marked trail is a top pick among families. The hike is 1.2 miles roundtrip on mostly flat ground. Stateline Fire Lookout Trail provides a stunning view of North Lake Tahoe and a panoramic view of surrounding vistas.

You and your eager trailblazers will likely see squirrels and chipmunks playing tag around the tree trunks and scampering along the trail. If you keep your ears peeled, you'll hear the raucous call of the striking blue Steller's jays.

The historic fire lookout station is the biggest highlight of Stateline Fire Lookout Trail. From here, you can admire the true beauty of the trail and surrounding mountains. This is the perfect place to connect with your kids and snap photos together.

Making it More Fun: Give your young explorer a small notebook to write down their observations. Nature journaling encourages them to explore the area and learn about what they see. They can also sketch pictures of what they see to personalize their journal.


Page Meadows Loop

This North Lake Tahoe trail is one of the best hikes North Lake Tahoe offers. The trail is a 5-mile loop, but the flat terrain makes it easy even for the youngest hikers. Page Meadows Loop offers the most breathtaking views of the meadows and wildlife that call these meadows home.

Wildlife is abundant, and many people enjoy watching the deer graze or birds flitting about. The vibrant greens transform into shades of red, orange, and yellow during autumn. Fallen leaves from the trees are fun for the children to frolic in while you take a break from hiking to observe Page Meadow Loops' splendor.

Remember to bring an area guidebook to help your children identify items they might spot, like pinecones and certain plants.

Making it More Fun: Bingo is fun for everyone. Give it a twist and host a game of Wildlife Bingo. To play this game, make a bingo card with pictures of animals you might encounter along Page Meadows. Whenever they spot an animal, they cross off the box until they shout "BINGO."


Tahoe Rim Trail: Mount Rose Meadows

Accessible from the Mount Rose Highway, Tahoe Rim Trail offers one of the best family hikes in North Lake Tahoe. This pick-your-own adventure trail allows you to choose a longer or shorter trek. The trailhead across from Mount Rose Highway is the starting point for the more extended 5.8 miles out and back trail. No matter which trail you take, they're flat and easy to navigate. The paths are well-marked, and each is suitable for your young ones.

With Mount Rose Meadows, there's more than meets the eye. Not only are there ample chances to spot adorable creatures like deer and pikas, but there are also various nooks and crannies where smaller wildlife dwell. Plan a picnic along the trail to give your children a break from walking and recharge their batteries.

Making it More Fun: Kids can get a little restless on longer trails such as this one. Enliven the spirit of the hike by playing a game of I-spy or Simon Says.


Shirley Canyon Trail

If your children are ready to explore beyond the trees, Shirley Canyon Trail is a great choice. Located in Squaw Valley, Shirley Canyon Trail offers kid-friendly hikes, family facilities, and surprises over every climb. Yes, there are a few climbs here, but most are manageable with moderate effort.

As you ascend the rocky sections, you'll hear the symphony of babbling creeks and the call of juncos and chickadees. But don't get too distracted, or you might miss marmots scurrying along the forest floor.

The highlight of Shirley Canyon Trail is the alpine lake — Shirley Lake. This is a great spot to picnic with the kids and take a breath of fresh air. The trail also provides a fun ride down the mountains in the Aerial Tram at High Camp.

Making it More Fun: Create your very own campsite story. Encourage your young hikers to create a short story about an adventure at Shirley Lake with them as the star. They can make this story as elaborate and exciting as their hearts desire.



Plan a Family Adventure in North Lake Tahoe
The best kid-friendly hikes in North Lake Tahoe are fun for everyone. These trails are great for summer hiking, but North Lake Tahoe offers activities all year round. Take the kids on an adventure vacation at
NorthStar California
for memories you'll never forget.