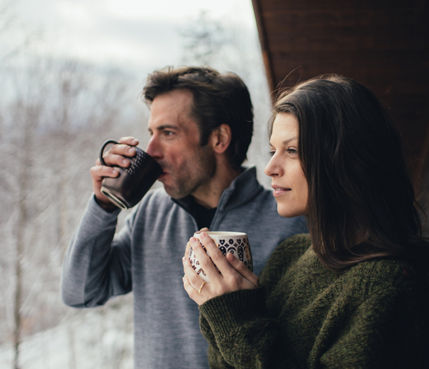 Finding exceptional coffee while at Northstar California is easy when you know where the best spots are. Hidden among the trees in the majestic Martis Village in North Lake Tahoe, the cozy, self-contained village of Northstar has dozens of spots to find delicious, fresh-roasted cups of coffee. From specialty blended drinks to classic drip coffee, you have plenty of great options for your morning cup of joe.

Pay a visit to these four best coffee shops in Northstar to find your favorite spot.


Best Coffee Shops at Northstar
1. Copper Lane Cafe and Provisions
Located within steps of your Northstar California resort,
Copper Lane Cafe and Provisions
is amongst the best coffee shops in Northstar. The coffee and bar area is a go-to spot for warm beverages, such as classic drip coffee, cocoa, and apple cider. This cafe also doubles as a mini grocery store, offering a wide selection of basics you may need during your vacation.
If you're in a hurry, Copper Lane Cafe and Provisions offers online advance ordering. Simply place your order online and your coffee will be ready to grab-n-go when you arrive. In addition to great coffee in Northstar, you can find delicious breakfast bites, including ham-and-cheese croissants, baked goods, and build-your-own breakfast burritos. This cafe has spacious seating for visitors who prefer to enjoy their coffee and breakfast indoors.
2. The Overlook
If you find yourself near the ice skating rink in the Village at Northstar, stop by the
Overlook
for a warm beverage. Here, you'll find the best alcoholic coffee in Northstar. The most popular beverage, Grand Coffee, will surely impress even the most discerning palate. This drink is made with coffee, Grand Marnier, brown sugar, and whipped cream, and topped with chocolate-covered espresso beans.
For non-coffee-drinkers in your group, the Overlook Bar has exciting, warm beverages on the menu too. The build-your-own hot chocolate bar is unique and fun, giving each family member the chance to customize their drinks. If you're looking for a snack to pair with your coffee or hot cocoa, check out Overlook's cupcake station.
3. Euro Snack
Euro Snack
is a fun spot for coffee in Northstar if you want to try something new and different. Located right within Northstar California Resort, this shop offers a wide selection of hot and cold coffees that pair wonderfully with their breakfast meals and sweet treats. French classic crepes are served for breakfast. To appeal to visitors looking to indulge in a sweeter snack, Euro Snack offers sweet Artisan Liege Waffles and Nutella crepes. Don't miss a stop at Euro Snack as you search for the best coffee shops in Northstar during your next visit.
4. Zuri Coffee Co.
Open seven days a week,
Zuri Coffee Co.
has an inviting atmosphere perfect for relaxing with your morning cup of coffee. As soon as you step foot in this coffee shop, you're greeted by a heavenly aroma of coffee and fresh-baked pastries. This family-friendly cafe has exceptional customer service that focuses on making customers feel like part of the family.
The friendly staff at Zuri Coffee Co. will be happy to customize your coffee order, allowing you to create the ideal drink you crave. If you've never tried a Nitro Cold Brew coffee, Zuri Coffee Co. is the place to do it! The popular Nitro Cold Brew is smooth and creamy, made in small batches, and infused with nitrogen gas. This popular spot for coffee in Northstar also offers delicious breakfast food, such as yogurt parfaits, bagels, and breakfast crepes.
Start Your Vacation off Right at Northstar California Resort
The perfect vacation day starts with a delicious cup of coffee. Whether you want to grab a to-go coffee and continue exploring the Village at Northstar or want to stop and relax, these six best coffee shops in Northstar are the right places to start your day right. These family-friendly coffee shops are perfect to please both the adults and kids in your travel group.