SKIER RESPONSIBILITY CODE
KNOW THE CODE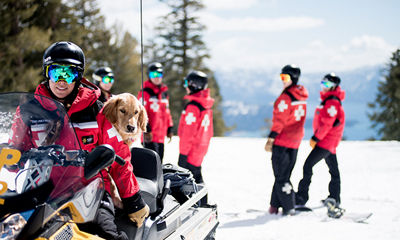 Do I really need to wear sunscreen everyday? Even in the winter?
Absolutely. UVA rays are present with relatively equal intensity during all daylight hours throughout the year. Even if you are not going outside frequently, UVA rays can penetrate clouds and even glass.
How often should I reapply sunscreen?
The first application of the day is the most important. Take the time to do it properly. Many things can affect the need to reapply sunscreen—such as excessive sweating, toweling off, wind, and swimming. Reapply every 2 hours and immediately after towel drying—especially after 40-80 minutes of swimming or sweating.
Unmarked Obstacles
Be advised that all poles, flags, fencing, signage, and padding on equipment are present to inform you of a potential obstacle or hazard. These markers aren't a guarantee of your safety and will not protect you from injury. It is part of your responsibility to avoid all obstacles or hazards, whether marked or unmarked.
Trail Designations
Skiers should be advised that a green circle, blue square, single or double black diamond, or orange oval at Northstar does not necessarily mean the same thing as at other resorts. Rankings are relative only to Northstar, and skiers should work their way up, beginning with the easiest trails, no matter what their ability level may be.
Slow Zones
Areas marked by yellow on the map are designated slow zones. Please observe the posted slow areas by maintaining a speed no faster than the general flow of traffic. Space and speed are especially important in these areas. Fast and aggressive skiing will not be tolerated and may result in termination of skiing/riding privileges.
Ski Safety
By law, any individual who engages in the sport of skiing, alpine or nordic, or any person who is within the boundaries of a ski area for the purpose of observing any ski activity, accepts and assumes the inherent risk of skiing insofar as they are reasonably obvious, expected or necessary. Inherent risks of skiing include, but are not limited to, those dangers or conditions which are an integral part of the sport, including changing weather conditions, variation or steepness of terrain, snow or ice conditions, surface or subsurface conditions—whether man-modified or not—bare spots, creeks, gullies, forest growth or rocks, stumps, lift towers and other structures as well as their components, collision with other skiers, and a skier's failure to ski within his or her own ability.
Equipment Allowed:
Vail Resorts allows the following at our resorts. This list is subject to change at any time and may have slight variations at each resort.
Skis: Allowed with a working brake binding system or retention device.
Snowboards: Allowed with a retention device (snowboard binding considered OK)
Telemark Skis: Allowed with a retention device or a working brake system. (Please be aware of releasable telemark bindings as they typically do not have a retention device.)
Monoskis: Allowed with a working brake system or retention device.
Snowblades: Allowed with a retention device.
Snowdecks: Allowed, but must have metal edges and a leash.
Snowshoes: Allowed on designated lifts.
Skibikes/Snowbikes: Allowed under the following parameters: Bike must have no more than two (2) skis; Must have metaledges on skis; Only one (1) rider per bike; Must be designed to load lift without slowing or stopping; Must be loaded within envelope of chair; bike counts as a rider on chair lift; No homemade bikes; Bikes not allowed in terrain parks; Must wear a leash at all times (on lifts and on slopes); May be restricted in certain areas and lifts for safety concerns.
Equipment Not Allowed:
Below are a few examples of what Vail Resorts does not allow for alternative sliding devices at our resorts, which includes but is not limited to the following devices.
Snowskates
Snowtrikes: Neither sit down nor stand up versions allowed (too wide of a foot print to load/unload chairlifts safely).
Bicycle conversion snowbikes: Bikes not allowed to have gears/chain/wheels/tires or crank assembly.
Plastic Snowboards: Boards must have metal edges or they are not allowed.
Sleds/Discs
Snowscooters
Toboggans/Tubes: Except in designated venues.
Smart Style in Freestyle Terrain
The National Ski Areas Association and Burton Snowboards have developed the Smart Style Freestyle Terrain Safety Initiative, which is a cooperative effort to continue the proper use and progression of freestyle terrain at mountain resorts while also delivering a unified message that is clear, concise and effective.
For more information, read below or go to www.TerrainParkSafety.org.
Make A Plan
Every time you use freestyle terrain, plan for each feature before using it. Your speed, approach and takeoff will directly affect your maneuver and landing.
Look Before You Leap
You are responsible for inspecting freestyle terrain before initial use and throughout the day. The features vary in size and change constantly due to snow conditions, weather, usage, grooming and time of day. Do not jump blindly. Use a spotter when necessary.
Easy Style It
Always ride or ski in control and within your ability level. Do not attempt Freestyle Terrain unless you have sufficient ability and experience to do so safely. You control the degree of difficulty you will encounter in using Freestyle Terrain, both on the ground and in the air.
Respect Gets Respect
Respect freestyle terrain and others. Only one person on a feature at a time. Wait your turn and call your start/drop-in. Always clear the landing area quickly. Respect all signs and do not enter freestyle terrain or use features when closed.
Freestyle Terrain Areas
Freestyle areas are designated with an orange oval and may contain jumps, ramps, banks, fun boxes, jibs, rails, half pipes, quarter pipes, snowcross, bump terrain and other constructed or natural features. Prior to using freestyle terrain, you are responsible for familiarizing yourself with the terrain and obeying all instructions, warnings and signs. Freestyle skills require maintaining control on the ground and in the air. Use of freestyle terrain exposes you to the risk of serious injury or death. Inverted aerials are not recommended but if done, you are assuming the risk.Freestyle terrain has designations for size. Start small and work your way up. Designations are relative to Northstar.
Electronic Devices
Vail Resorts strongly discourages the use of electronic devices including cell phones, personal entertainment and communication devices, and any other electronic equipment that utilizes headphones while skiing and snowboarding, or loading and unloading lifts.
Lift Safety
Under the law, you cannot board a lift unless you have sufficient physical dexterity, ability and knowledge to negotiate or use the lift safely, or until you have asked for and received information needed to enable you to use the lift safely. You may not use a lift or any ski trail when under the influence of drugs or alcohol.
Helmet Use
Northstar encourages all guests to wear a helmet. While helmets may mitigate or reduce the severity of some head injuries, their use does not guarantee safety and will not prevent certain injuries.
Lids on Kids
Northstar believes in safety as much as we believe in fun. You will see many of our on-mountain staff wearing helmets and we encourage kids to wear helmets as a way to have more fun while being safe.
Check out some of these resources for more info: Lids on Kids
Snowcats & Snowmobiles
Caution: Snowcats, snowmobiles and snowmaking may be encountered at any time.
Backcountry Warning
The ski area abuts U.S. Forest Service land that may be beyond the ski area boundary. The ski area assumes no responsibility for individuals who elect to go into the backcountry terrain beyond the ski area boundary. To access the backcountry, use designated gates only. Areas beyond the ski area boundary are neither patrolled nor maintained. Avalanches, unmarked obstacles and other natural hazards exist.
Be aware
Backcountry avalanche hazards may be extreme. Rescue in the backcountry, if available, is the responsibility of the County Sheriff. It will be costly and may take time. If a sign indicates the area beyond the sign is closed, do not ski in the terrain beyond the sign. Skiing in closed areas is against the law and you may be criminally prosecuted.
Deep Snow Safety & Tree Wells
The most important step in safety prevention is to remain on groomed runs, resisting the urge to ski or snowboard through the trees during deep powder conditions, no matter how inviting the untracked snow looks. If you choose to ski or snowboard in the un-groomed, deep snow areas with trees, remember to:
Ski/ride with a Partner
It is critical to ski or ride with a partner who remains in visual contact at all times. In many cases, some of the deaths, which have occurred due to tree well incidents, may have been avoided had A) the person been with a partner, B) the partner saw the person fall, and C) the partner was close enough to assist with digging the victim out in a timely manner.
Every Second Counts
You can't save your partner is you are waiting in line at the bottom of the lift. If you are unsure how long you have to be saved while stuck in snow or a tree well, hold your breath right now. The amount of time it takes until you need another breath is approximately how long you have before being in danger. Other factors such as creating an air pocket or the nature of how you fall may extend this timeframe.
Maintain Visual Contact
Visual contact means stopping and watching your partner descend at all times, then proceeding downhill while he or she watches you at all times. If you lose visual sight of your partner, you could lose your friend.
Backcountry Gear
Carry backcountry skiing and snowboarding rescue gear, including a transceiver, shovel, probe and whistle. More importantly, know how to use it.
Remove Your Pole Straps
If you are a skier, remove your pole straps before heading down a powder slope. Trapped skiers have difficulty removing the pole straps, which can hamper efforts to escape or clear an air space to breathe.
What if I go down in a Tree Well?
Hopefully your partner will have seen what happened and can come to the rescue within minutes. If not, experts advise staying calm while waiting for assistance. Survival chances are improved if you maintain your air space. Over time, heat generated by your body, combined with your rocking motions, will compact the snow, and you may be able to work your way out.
If you are sliding toward a tree well or a deep snow bank, do everything you can to avoid going down. Grab branches, hug a tree and do anything to stay above the surface.
If you go down, resist the urge to struggle violently. The more you struggle, the more snow will fall into the well from the branches and area around the well, which can compact around you.
Don't panic. Instead, first try to make a breathing space around your face. Then move your body carefully in a rocking manner to hollow out the snow and give you space and air.
Uphill Access Guidelines
Northstar is located on private property. A valid pass to use or enter the property is required. Use of the property is limited to published operating dates, times and guidelines.
Public use of the property is limited to downhill traffic and guidelines set forth by Northstar. Right to pass will be by express permission and is subject to control by land use manager.
Non-paid and uphill users of Northstar assume all risks associated with access. The ski area is not maintained for uphill access and trails are not patrolled outside normal ski area operating hours. Therefore, emergency services may not be available. Ski area operations are 24 hours and users may encounter vehicles, slope and trail maintenance activities, snowmaking, snow cat winching, and other hazards not typically present during operating hours.
Uphill access is only approved during authorized special events. These events will have a prescribed/authorized uphill access walking lane. All approved special events will have posted, authorized uphill times.
Dogs, other than certified service dogs, are not allowed in or on the skiing/riding area of the resort.
Early Season Uphill Access Guidelines
Access is not allowed on ski trails, bike trails, or mountain service roads during mountain preparation and early season operations.
High-Altitude Environment
Some visitors may experience symptoms associated with Northstar's high altitude. Symptoms may include headaches, nausea, loss of appetite, restless sleep, coughing and difficulty in breathing. If symptoms persist or you are concerned for you health, seek medical attention.
Protect Your Skiing & Riding
Your Northstar ticket or pass is non-transferable and may not be resold or used by anyone other than you—the person it was issued to. Please report lost or stolen passes to resort staff or law enforcement immediately. Resort staff may ask you to show your pass or ticket at any time. Failure to show a valid pass or ticket, or engaging in fraudulent behavior of any kind, may result in loss of skiing and riding privileges or criminal prosecution.
On-Hill Emergency Contact
Ski patrollers and mountain safety hosts are stationed at the top of major chairlifts. The first-aid room is serviced by Tahoe Forest Health System and is located on the lower level of the Northstar Club building in the Village at Northstar. Report all accidents to the attendant at the bottom or top of the nearest chairlift. To summon help, use the international signal of crossing your skis in an X uphill of the injured skier or rider, and contact Ski Patrol at 530.562.3444
Warning & California State Penal Code
Skiing, snowboarding and other winter recreational activities involve inherent risks of injury and death. Trail conditions vary constantly because of weather changes and ski/snowboard use. Bare spots, stumps, ice, variations in terrain, moguls, forest growth, rocks and debris, lift towers, snowmaking and grooming equipment, other natural and man-made obstacles, and hazards may exist throughout the area. You assume the risk of personal injury and death related to participation in recreational activities within this ski area.
The following misdemeanors are punishable by a fine of up to $1,000: skiing within or entering a closed area (PC 602r); leaving an accident scene if involved in a collision, except to notify authorities or obtain assistance (PC 653i). Violators of hit-and-run skiing may be prosecuted under Section 653-i of the California State Penal Code. It is unlawful for persons under the influence of an alcoholic beverage or any drug, or under the combined influence, to ski in a ski area (Sec. 9.28.020-80, Placer County ordinance). Do not ski into closed areas or beyond ski area boundaries. You may be prosecuted or held liable for the cost of search and rescue if in violation (CC 602.Q).