Fine dining at elevation
Summer Dining
Expand your pallet while taking in incredible views. Summer dining is available on-mountain, in The Village and at the Golf Course.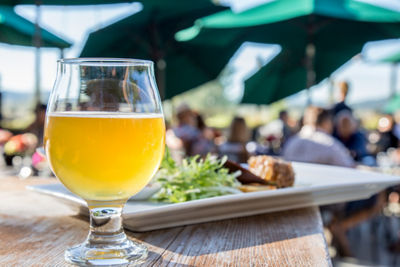 Brewmaster Dinner
Join Northstar's Executive Chef for a meticulously curated evening featuring five seasonally inspired dishes paired with locally sourced craft beers. Expand your taste buds and enjoy the company of fellow ale lovers while the sun sets over the golf course at the Martis Valley Grille.
Village, On-Mountain & Golf Course
Summer Dining At Northstar
Saturday, July 13 | 8am-3pm
Take in the views before taking in the thrills. Join us for this special brunch, Saturday, July 13th, and fill your stomach before heading to the Truckee Air Show. In addition to a variety of fresh seasonal dishes, this brunch will feature a complimentary mimosa. Inspired by the daredevil pilots soaring above Martis Vally for the Truckee Air Show, this brunch will also feature specialty cocktail made with Aviation Gin.
Brunch served 8am-3pm