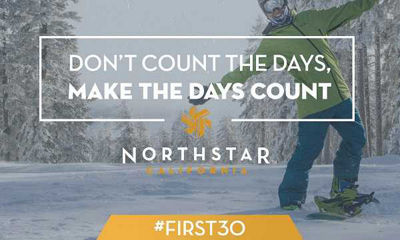 Are you Ready?
The #First30 days of the season starts November 23rd.
We simply can't wait, so we are offering great deals during the #First30 days of the ski season including up to 20% savings when you book 3 nights or more at any of our qualified lodging properties.
General Info
Imagine being the first one on mountain to enjoy our world-class grooming before the lifts open to the public. Ski and ride fresh groomers for an entire hour before the public, exclusively through First
Tracks. Offered on select Sunday's throughout the winter, we welcome you to come experience what it's like to be first on mountain.
Let our First Tracks guides take you through the very best trails so you don't have to worry about where to go when you get here. After the lifts officially open for the day, our certified guides will escort you to the Zephyr Lodge for a light breakfast to conclude an incredible morning on the slopes.
7:00 AM

Meet with guides at Adventure Guide & Learning Center

7:15 AM
Guides will escort you to Big Springs Gondola. Ritz-Carlton
guests will meet at Zephyr Express at 7:30 AM.
7:30 - 8:30 AM
Ski & snowboard with guides
8:30 - 8:45 AM
Ski guides escort First Tracks guests to Zephyr Lodge
8:45 - 9:30 AM
Enjoy a light breakfast at Zephyr Lodge
Call 1.80.GO.NORTH to reserve your ticket to be first on mountain.
First Tracks - Does no include lift ticket or equipment rentals
Price - $200
Disclaimer: First Tracks is offered on select Sunday's and is dependent on weather and conditions. First Tracks is recommended for intermediate to advanced skiers and snowboarders. Guests can
purchase by calling 1.800.GO.NORTH. Cancellation for weather will be made by 4 PM the day prior via phone.
Explore Northstar
Adventure, Guide & Learning Center
Fine tune your skills with a private instructor.
Epic Pass
Nov 19 is your LAST CHANCE to buy.
Lodging
Save up to 20% on lodging
Rentals
Save 20% when you reserve your rentals online.